Escobar: Kurti to withdraw the mayors from the municipal buildings in the north and to urgently form the CSM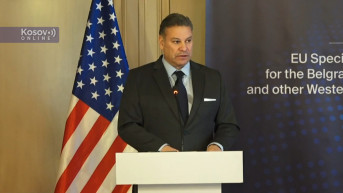 Source: Kosovo Online
Prime Minister of Kosovo Albin Kurti had not listened to the proposals of the international community regarding the situation in the north, although he had promised that the mayors would have only technical powers, the Special envoy of the United States of America for the Western Balkans, Gabriel Escobar said.
Escobar told the BBC that the situation in the north was the result of Prime Minister Albin Kurti's lack of willingness to listen to the international community.
"This escalation is partly the result of the lack of will on the part of the Kosovo side to listen to the international community. This unnecessarily caused tensions. There are other buildings from which we can work. The covid-19 pandemic has taught us that we can also work from alternative locations," Escobar said.
He added that US efforts to coordinate with the Government of Kosovo had met with resistance.
"Kurti promised that the mayors in the north would only have technical powers until a solution was found to keep the services to the citizens functioning, but it turned into a conflict between those who did not want the new mayors to take office and those who insisted that mayors will be in those municipalities for symbolic reasons," Escobar said.
He emphasized that for a week the US had been giving signals to Prime Minister Kurti to de-escalate the situation in the north of the country, and reminded him that three clear demands had been made that had to be fulfilled.
"We gave him a lot of signals, to withdraw the mayors from the municipal buildings, to remove the Kosovo Police from the buildings, and then to urgently enter into the procedure on the formation of the Community of Serb-majority Municipalities," Escobar underlined.
As announced, Escobar and the Special EU Representative for dialogue, Miroslav Lajcak, would be in Kosovo and Serbia on Monday and Tuesday, in order to engage in the de-escalation of tensions in the north of Kosovo.