Petkovic: Today everyone saw Kurti's true intentions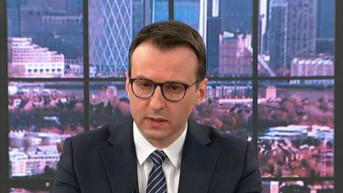 Source: Printscreen, Pink
Director of the Office for Kosovo and Metohija, Petar Petkovic, said that today everyone could see the true face of Kosovo Prime Minister Albin Kurti and his true militant intentions whith respect to the normalization of relations between Belgrade and Pristina.
Petkovic stated on TV Pink that everyone in the Kosovo parliament heard that Kurti was not interested in forming the CSM, that he would never form it and that he was never interested in the issue.
"It just shows what kind of attitude Pristina has towards dialogue and that they don't want to agree on anything and respect the agreements. It also shows how right the Serbs were when they left Pristina's institutions, precisely because they insist on the formation of the CSM" , he stated.
Petkovic pointed out that Kurti is right when he says that he is not interested in dialogue.
"He is simply using dialogue so that he can say in front of the international community that he is participating in that process, but he is not actually doing anything about it. That is why it is important for everyone to understand Belgrade's position in this process. Every agreement is a small step to preserve peace, stability and the lives of people in Kosovo and Metohija," Petkovic pointed out.
He added that there are no sanctions against Kurti by the international community.
"Kurti said today that he was happy because the Serb List would no longer be the one that would condition the so-called Kosovo. Kurti could not give the Serb List a higher praise, because it shows that the Serb List was and remained to be a barrier to the defense of the Serbian national interests together with Belgrade. Kurti's threatening to announce a competition is an indication that the Serbs in Kosovo and Metohija want to listen and look towards Belgrade," he added.
The director of the Office for Kosovo and Metohija stated that 51 agreements had been reached and not 33 as Kurti says.
"We know every letter of the agreement, we know what is the obligation of Pristina, but also the EU knows, which is obliged to fulfill everything that has been achieved. That is why it is important that the EU and international factors exert the necessary pressure on Kurti, because he shows that he does not want to end the implementation of the agreement that are encouraged to normalize life, to prevent Serbs from being attacked, to have the CSM. It is important to be wise and open-minded," he said.
According to him, this is an indication of all the lies Albin Kurti has been telling for more than a year, that Belgrade is causing conflicts.
"We showed that Belgrade does not want to attack anyone, but it is a constructive factor that wants peace and stability, and the only one who creates crises is Kurti", Petkovic concluded.