Vucic: We are grateful to China for supporting the territorial integrity of Serbia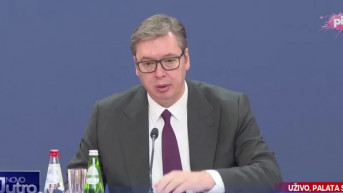 Source: Printscreen
The President of Serbia, Aleksandar Vucic, at a meeting with the Deputy Minister of the International Department of the Central Committee of the Communist Party of China, Qian Hongshan, reiterated his gratitude to the Chinese President, China and the Communist Party of China for supporting the territorial integrity of Serbia and its independence.
As stated in the press release of the Service for Cooperation with the Media, Vucic particularly emphasized that Serbia unwaveringly and consistently supported the policy of "one China" in all international forums.
The President of Serbia discussed with Hongshan many aspects of the strategic partnership with China and assessed that relations between Belgrade and Beijing were entering a new phase of development, especially through plans for comprehensive economic cooperation, improvement of trade exchange and influx of new Chinese investments.
According to reports, the Chinese ambassador Chen Bo also attended the meeting.
The president welcomed the high-ranking Chinese official, taking the opportunity to congratulate the results of the 20th Congress of the Communist Party of China and the re-election of Xi Jinping.
The President expressed Serbia's support for the Initiative for Global Development, as a format that advocates for the creation of a favorable environment in order to accelerate global development while encouraging an equal and balanced development partnership. President Vucic particularly pointed out that the initiatives of President Jinping had special weight, since they were aimed at the general welfare of humanity with a focus on connection and cooperation, regardless of the size and real strength of the states in the international arena.
Deputy Minister Hongshan pointed out that the good relations between the two presidents and their numerous meetings instilled a strong driving force for the further development of cooperation between Serbia and China and added that his country was ready to further strengthen the comprehensive strategic partnership with Serbia.
The President expressed his hope for the soon visit of President Xi Jinping, which would not only show a special honor to Serbia, but also provide an opportunity to express gratitude for his personal involvement in building the iron friendship of the two countries.