At the triathlon in Tirana, Serbian competitors won first and second place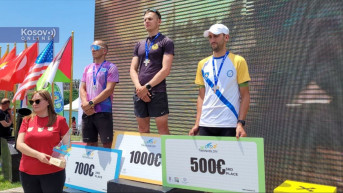 Source: Kosovo Online
Iva Pavlovic (18) from Kragujevac won first place at the triathlon in Tirana in the women's competition and thus defended last year's title. Her club colleague and fellow citizen Strahinja Trakic won second place in the Olympic distance race.
Pavlovic, who was the best in the sprint distance race, ahead of competitors from Bulgaria and Greece, told Kosovo Online that she was happy about the victory.
"The course is very difficult because there are many hills. The competition was weak, I didn't see any of the girls, I don't know where they are," Pavlovic says.
Strahinja Trakic finished the race behind the Bulgarian Borislav Palasev, while third place in that discipline was won by the competitor from Kosovo, Albion Imeri.
"I led the race from the very start to the beginning of the racing segment, but I ran out of power a little and ended up in second place. In general, it's not bad, let's move on," Trakic said.
About 100 competitors from 18 countries of the region and the EU participated in the triathlon organized by Tirana in cooperation with the Embassy of Greece in Albania.
Our triathletes from the Extreme Sports Club "Kragujevac" are expecting competitions next week, and on June 11 they will compete again in Albania.
The triathlon has been held for six years at Farka Lake, which is located near Tirana.