Brnabic: The statement of the German ambassador to Kosovo is brutal and rude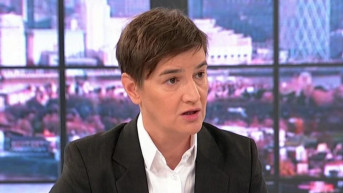 Source: Printscreen/Pink
The Prime Minister of Serbia, Ana Brnabic, assessed this morning that the statement of the German ambassador to Kosovo that the barricades are illegal and must be removed by Christmas is "brutal and rude", RTV reports.
Branabic said for TV Pink that the Serbs at the barricades with their dignified behavior were helping Belgrade to try to reach a diplomatic solution to this situation and that it was incredible that we had statements from the German ambassador who sent incredible messages regarding all that was going on.
The Prime Minister sent a big greeting to our people in Kosovo, because, as she says, they fight with dignity and do not succumb to provocations, which, she adds, help Belgrade to use all diplomatic means to try to fight for peace and the basic human rights of the Serbs in Kosovo. 
"We are not talking about any broader rights. They are really only looking for the bare minimum, basic human rights. You have Dejan Pantic who is in detention today, for the 12th day, and who, it is realistic to say, was kidnapped, because another name does not exist and a different definition for what was done to him," Brnabic said.
She adds that he was detained for nothing and for 12 days no one knows where he is or whether he has taken medication.
"No one has heard of him. I'm not only referring to his family and his lawyer, but also the EULEX Mission, it's unbelievable," said Brnabic.
As she says, the EULEX Mission in Kosovo is there to ensure the rule of law and some basic human rights.
"You have the head of the EULEX Mission who said on December 15 that he did not know where he was. They don't even know if he has received medication, they said they did not know anything about him, and that's fine with them," Brnabic said.
She points out that that territory is under international supervision, and no one, she adds, can be found to say that this is not normal.
"And on top of all that, we have the brutal and rude statements of the German ambassador to Kosovo and Metohija, who sent us at least five important messages with yesterday's interview. The first is that the barricades are illegal. It is illegal that the Serbs are demanding the implementation of the Brussels Agreement and the Community of Serb-majority, Municipalities. The second message is that they must be removed because Christmas is coming. I don't understand why? Saint Nicholas, who is equally important to many Serbs, has also passed, so nothing has changed," Brnabic said.
She adds that it is obvious that Christmas is important to the German ambassador and that he wishes to go home to rest, so the barricades bother him.
Brnabic says that it would be appropriate if he explained until which Christmas, because there is a significant difference in time between, as she said, our Christmas and theirs, and adds that there is not even a minimum of respect for Serbs.
She says that international institutions are not interested in what the barricades are for and where all our arrested people are.
"The next message I heard is that the request, as they say, the request of Aleksandar Vucic, even though the government stands unanimously behind him, for the return of Serbian forces to Kosovo and Metohija, is absolutely absurd and unacceptable. Therefore, KFOR should respond to that request that it remains silent about, but the German ambassador says that the request is unacceptable. Who is he to speak about what is or is not in accordance with Resolution 1244," Brnabic stressed.
She points out that they also assume the role of KFOR and the UN Security Council.
As she says, let him read Resolution 1244 and then let him talk about what is absurd and unacceptable.
"The fourth message that the German ambassador gave us yesterday is that the CSM must be in accordance with the constitution of Kosovo. If something is in accordance with the constitution of Kosovo, then why are we negotiating about it? No, and they know that according to the Brussels agreement it is not so Brnabic said.
Brnabic said that they were re-entering the role that no one gave them.
"The fifth message is that they support Pristina. They said that Germany fully stands by Pristina on all items," Brnabic said.
As she says, we all talked about how crazy and irrational Albin Kurti is, and adds that only Aleksandar Vucic said that he was, but that he would not rule out that he has the full support of someone and someone's back for such arrogant behavior.
"Now it turns out that he was right. All this that has happened since the arrest of Dejan Pantic, since Kurti's statement in the middle of Berlin that there is no Brussels agreement for Pristina, to which Germany did not react. Now we see that this is German policy and that they are with Kurti and that he has Germany's serious back," Brnabic said.