Hoti: The decision to re-register vehicles regrettable; the US shows the first signs of straining relations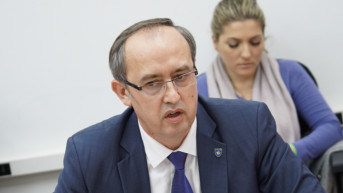 Source: Reporteri
Former Prime Minister of Kosovo Avdullah Hoti accused Albin Kurti's Government of not having a political vision because he was discussing the issue of license plates rather than the final agreement with mutual recognition, the Albanian newspaper Reporteri reported.
Hoti pointed out that the decision to implement the new license plates regime was regrettable because there was a lack of coordination with international allies, especially with the United States, which has been the first sign of deteriorating relations.
According to him, Kurti's Government is not focused on the final agreement between Kosovo and Serbia.
"These are not local politics matters so that you make an action inspired by party militants to satisfy their appetites," Hoti underlined.