Lajcak: We agreed that all previous agreements must be fully implemented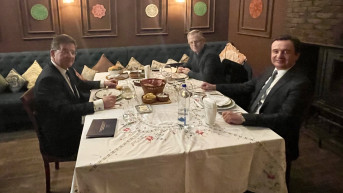 Source: tviter
EU Special Envoy for dialogue between Belgrade and Pristina, Miroslav Lajcak, arrived in Pristina yesterday, where he met late last night with Prime Minister Albin Kurti and the head of Pristina's negotiating team, Besnik Bislimi, stating that they "agreed that all previous agreements in the dialogue must be fully implemented".
Lajcak stated that he returned to Kosovo to "continue frank, open, and intense talks with Prime Minister Kurti and Deputy Prime Minister Bislimi on the next steps and the way forward on normalization of relations with Serbia."
"We also agreed that all past Dialogue Agreements must be fully implemented," Lajcak wrote on Twitter.
Before the meeting with Kurti and Bislimi, Lajcak had warned that the party that rejected the European proposal would face a reduction in support.