Hill: The formation of the CSM is a prerequisite for moving forward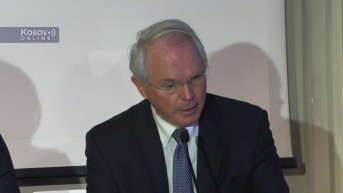 Source: Kosovo Online
American Ambassador to Serbia, Christopher Hill, said today that the formation of the Community of Serb-majority Municipalities in Kosovo was an essential element in order to move forward in the dialogue, RTV reports.
Hill said that it should be dealt with first, and then, as he suggested, it should be followed what had been stated in the Franco-German proposal for Kosovo.
He also said that Serbia had now probably been on the most important path in its history - towards joining the Euro-Atlantic integrations, including the EU, and that the US wanted to help Serbia realize that.
"I want to be clear, that we support the future of Serbia. We have the best relations in the world with the EU, and Serbia is on the way to getting closer to it, which is the best way to strengthen our relations," Hill said at the Nikola Tesla Museum after signing the Memorandum on understanding between the Government of Serbia and the American Agency for International Development on cooperation on the implementation of the "Better Energy in Serbia" project.
When asked how he saw the format of the Community of Serb-majority Municipalities and whether the international community had a mechanism to persuade Pristina to implement the Brussels agreement signed almost 10 years ago, he said that all the negotiators, whether from the EU or the US, had confirmed that the CSM was an obligation that derived from the Brussels Agreement.
"If you read the text carefully, the first six points deal with the formation of the CSM and that is an essential element in order to move forward. And that should be dealt with in the first place, followed by what is stated in the Franco-German proposal, which enjoys EU support. That document goes to broader ideas that will require more time," Hill said.
He added that we could not expect everything to be resolved today or tomorrow, but that the priority was to implement the agreements reached in Brussels.
When asked how the US saw the format of the future CSM, whether it was as provided for in the Brussels Agreement, he says that he cannot give more information about it, because the details need to be worked out.
"The Brussels agreement has only six sentences, more work needs to be done on that and the details should be worked out," the American ambassador said.
When asked by the media whether the "Ischinger Plan" would be brought back to the scene through the French-German proposal, he said that the content of the existing plan should be focused on first and that later they can compare and look for similarities and differences between the two plans.