Milivojevic: The USA has an interest in continuing the dialogue, the Chollet's visit was in that function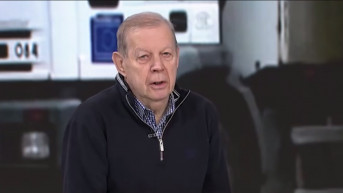 Source: Print Screen
Former diplomat Zoran Milivojevic said that the USA has an interest in continuing the dialogue between Belgrade and Pristina and that the visit of the senior adviser of the State Department, Derek Chollet, was for that purpose, RTS reports.
"Yesterday, we heard that Mr. Chollet spoke about a compromise. So, he is talking about the fact that the American side is determined to seek a solution through dialogue and political and diplomatic means, therefore, that both sides must be respected. This is the first time in recent times that we hear this American approach and it tells us that the Americans understood the situation on the ground. I would even say maybe better than some of their partners in Europe. That they understood that a solution cannot be achieved by pressure and imposing a solution, but that it must be sought through dialogue and that Serbia's position on compromise must be respected. If they want peace and stability, then it is necessary to approach it in the future as well," Milivojevic said in a guest appearance on RTS's Dnevnik.
Milivojevic pointed out that the news is a very clear position of the US regarding the Community of Serb-majority Municipalities.
"America makes it clear that this is an obligation that must be fulfilled and that no substantive dialogue is possible if this issue is not resolved," Milivojevic said.
He stated that Washington did not take the main role in the dialogue and mediation, but that they gave unreserved support to EU mediation based on the Franco-German proposal.
"The Americans will stay on the sidelines, but their role is crucial because their influence on Pristina is crucial, and we saw that when we had a problem with the license plates and now before the New Year," Milivojevic assesses.
He also adds that it is not in the interest of the West that the dialogue conducted under the auspices of the EU and through its mediation is called into question in any way.
Speaking about the policy of recognizing Kosovo, he states that Serbia will not give up on it because it is one of the defense mechanisms for Serbian interests related to Kosovo.
"The US is bothered by the policy of derecognizing Kosovo, but it is simply Serbian state and national interest, and I think that Serbia will not give up on it for the simple reason that it is one of the defense mechanisms for Serbian interests related to Kosovo," he said.
When asked whether and how much pressure there would be on Belgrade to make the Franco-German plan an official plan, that is, a document for negotiations, he answers that there will be pressure.
"Certainly there will be pressure and this message from Mr. Chollet yesterday that America is behind it is a clear message. However, I don't think there are any conditions for Serbia to change its position," Milivojevic says.
He also points out that bilateral relations were also discussed during Derek Chollet's visit.
"The Americans made it clear that they care about relations with Serbia. It should be noted that Mr. Chollet made it clear that the US has an interest in developing bilateral relations with Serbia, that there is a whole spectrum of issues where we have a common interest, and it is no coincidence that economy and energy were discussed," Milivojevic stresses.