Novosti: Berisha and Albanian extremists are preparing large protests against Vucic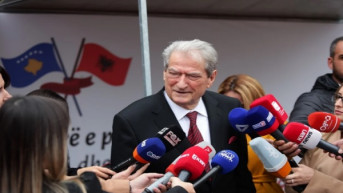 Source: Gazeta Express
Extremist circles in Albania, led by former prime minister and current leader of the Democratic Party Sali Berisha, are preparing large demonstrations against Serbian President Aleksandar Vucic, who is coming to Tirana tomorrow for the European Union and Western Balkans Summit, "Novosti" has learned off the record.
According to "Novosti", Berisha and nationalist circles supported by extremists from Kosovo are planning a mass gathering at noon in the central city streets to express their dissatisfaction with the fact that the first man of Serbia came to their capital.
The intention is to cause incidents, but also to send a message to the guest from Belgrade that he is unwelcome, because these circles in Albania see Vucic as the mastermind of the "Open Balkans", which according to them is synonymous with the economic and political supremacy of our country in the entire region.
Let us recall that this is not the first time that Berisha has organized protests against the arrival of the Serbian president in Tirana. They also protested last year, on December 20, due to the arrival of Aleksandar Vucic in Albania.