Dacic with Lajcak: Serbia is a constructive and predictable partner committed to dialogue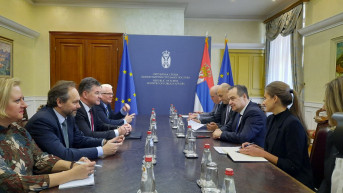 Source: Ministarstvo spoljnih poslova
The First Deputy Prime Minister and Minister of Foreign Affairs, Ivica Dacic, met today with the EU Special Representative for Dialogue between Belgrade and Pristina and other regional issues in the Western Balkans, Miroslav Lajcak, and on that occasion said that Serbia was a constructive, dedicated and predictable partner when it came to dialogue between Belgrade and Pristina.
According to the statement of the Ministry of Foreign Affairs of Serbia, Dacic informed Lajcak that Serbia would continue to work on further harmonizing its visa policy with the European visa policy when with respect to third countries and announced the adoption of appropriate decisions in the coming period.
He emphasized that Serbia would continue to be a cooperative and severally liable partner regarding illegal migration.
"Dacic indicated that the Government of Serbia would continue with its dedicated work on the reform process, as well as that it would strive to increase the percentage of harmonization for the EU's common foreign and security policy," the statement said.
As added, Lajcak emphasized that the goal of the dialogue was for the two sides to reach a mutually acceptable solution.
He reminded that talks within the dialogue include three levels: normalization of relations, fulfillment of already reached agreements within the dialogue and solving current issues.
"Both sides expressed their satisfaction with the cooperation so far and expressed their willingness to continue it in the future," the Ministry announced.