A journalist faces death threats after she condemned Xhaka's behavior in the match against Serbia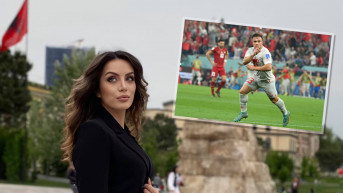 Source: Nova.rs/Facebook
The journalist Zana Avdiu, after stating that the gesture of the Swiss football player Granit Xhaka during the match with Serbia was "shameful and an act of banditry", received hundreds of threats, some of which were extremely serious and called for the murder of this woman.
According to her lawyer, Arianit Koci, Zana had been receiving numerous messages on both her Facebook and Instagram accounts for the past few days.
One of the users wrote to Zana that he had time to get to her and to kill her while alluding to the murder that had happened just a few days before that at the University Clinical Center in Pristina when a pregnant woman had been killed in the courtyard of this institution.
"Your life won't last long," reads another comment, and almost all of them contain profanities directed at the journalist.
The lawyer Arianit Koci says that such threats are inadmissible, pointing out that the world can disagree with Zana, but it must not openly threaten her.
"Maybe we can disagree with her, but such threats are unacceptable in a civilized society. On the other hand, public denunciation causes even greater threats," Koci says.