Only Banjska residents can enter and leave the village; they are searched by special forces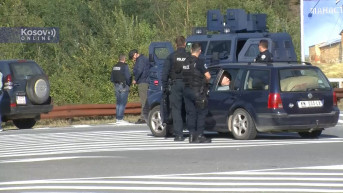 Source: Kosovo Online
Three days after the conflict in Banjska, it is still impossible to approach the village because all roads leading there are blocked by the Kosovo police.
As reported by Kosovo Online's correspondent, based on conversations with Kosovo Police Special Forces, only the local residents can enter and exit the village, with mandatory identification and vehicle searches.
As Minister Svecla stated yesterday, a police operation is still ongoing in the area of this village.
In Serbian communities in Kosovo, a three-day mourning period has been declared, while the Government of Serbia, at today's emergency session, declared September 27, 2023, as a Day of Mourning due to the the tragic events in Kosovo.