What is the epilogue of the events in Banjska: Who are the losers, and who are the winners?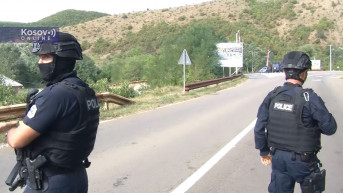 Source: Kosovo Online
The grim aftermath of yesterday's conflict in Banjska has not been definitively concluded yet, but the fact that, according to current information, five people have died and one is seriously injured speaks of the dramatic situation of the current state in the north. Kosovo authorities announce the continuation of the fight against "terrorists," while Serbs, on the other hand, fear further actions by the Special Police but are determined not to leave their homes despite all the difficulties. The police siege of Banjska continues, and sources from Kosovo Online in Gracanica and Belgrade warn that this is harmful to both Serbs and Albanians.
Nevertheless, they have no doubt that this situation was caused by Albin Kurti's unreasonable policies and that unfortunately, something like this could have been expected after all the tensions that have been prevalent in northern Kosovo for months.
This was also pointed out by the President of Serbia, Aleksandar Vucic, who emphasized that the Serbs in the north had rebelled, not wanting to endure Kurti's terror any longer. He stressed that, although he had talked about it many times and had warned every day in Brussels and New York that all of this could happen, few had wanted to listen. The President stated that Kosovo Police had been used 62 times since November 3rd and highlighted that it had been only a matter of time before those pursued by the police, who move from "central Serbia to Kosovo and Metohija" to avoid arrest, would attempt to fight back.
"I do not want to justify the killing of an Albanian policeman; that is condemnable, and no one needed it, especially the Serbs, especially at a time when everyone realized that Kurti is the main organizer of chaos, there is no doubt about that. In just an hour and 20 minutes, these dozens of Serbs were completely surrounded, and they were brutally attacked. They asked why KFOR didn't do it, but they gave a "carte blanche" permit to Kurti to deal with the terrorists and probably kill as many people as possible," he said.
Prime Minister of Serbia Ana Brnabic also stated that the only culprit for the conflicts in Kosovo, including the incidents in Banjska on the night between Saturday and Sunday, was Kurti. She added that President Vucic had warned several times that such a conflict could occur. She pointed out that in that speech, Vucic had also mentioned that after completely rejecting Brussels' proposal for de-escalation, Kurti stood in front of one of the most important EU buildings and told the media that "the Serbs must suffer and pay," and no one paid attention to these words, neither from the USA nor from the EU. She added that Vucic had also warned of creeping ethnic cleansing and the daily terror endured by the Serbs in Kosovo. She particularly warned that someone had given Kurti a "carte blanche" to deal with the "terrorists," or attackers on the police, and to kill them, which meant that there was no rule of law in Kosovo.
Ambassador of Serbia to the USA Marko Djuric also emphasized that Kosovo Prime Minister Albin Kurti bore responsibility for the bloodshed in the north. He stated that Serbia unequivocally condemned the violence in which at least three Serbs and one Kosovo Albanian had been killed and called on the international community to take urgent action. He reminds that over the past six months, Kurti's forces have injured seven Serbian civilians, including children.
In the US and the EU, numerous condemnations of the armed conflict in Banjska have arrived, along with calls for the parties to urgently return to the negotiating table. In Brussels, an emergency meeting has been scheduled today with the EU Special Representative Miroslav Lajcak, along with diplomatic advisors from France, Germany, and Italy, and the US Envoy Gabriel Escobar will also join the meeting.
Following yesterday's events in Banjska, during which at least four people were killed, there is a sense of fear in Kosovo, says political analyst Aleksandar Gudzic from Gracanica. He warns that new incidents may occur because, as he points out, 'one act of violence leads to another.'
Gudzic stated in an interview for Kosovo Online that the outcome of yesterday's events was several dead people, the blockade of Banjska, and trauma for those who lived there and had been in a state of lockdown the entire day, witnessing scenes of war.
In such situations, everyone is a loser, he adds.
"There are no winners here; the only losers are the citizens of Kosovo who were in a state of emergency the entire day yesterday, waiting to see what might happen and whether this violence, shootings, and gunfire could lead to a broader conflict spilling over into other parts of Kosovo. So, there are no winners here; there are only losers," Gudzic said.
Based on previous experiences, the Serbs in Kosovo are afraid of new incidents and conflicts.
"Knowing all that Pristina has done in recent months and years, it is not excluded that new incidents and conflicts may occur because one act of violence leads to another, and it goes around in circles," Gudzic said.
He also noted that he had not been surprised by the reaction, or rather the lack of reaction, from KFOR.
"NATO and KFOR behave like legalists and support the institutions despite all their flaws, but this is something we have been dealing with for years, that the international community, especially its Western part, has understanding for the violence committed by Pristina against the Serbs, or justifies what Pristina has been doing for years," Gudzic said.
Referring to the fact that even the family of the killed Kosovo police officer called on Prime Minister Kurti not to keep special units in the north but to resolve matters through dialogue, Gudzic agrees that talks are the only solution.
"Dialogue is the only rational solution, something that Albin Kurti should insist on because the violence he is conducting in the north leads to other violence, it's like a spiral, a spring system; the more you press it, it eventually explodes," Gudzic concluded.
The situation in the north is also reflected in the south; people are confused and extremely afraid because they fear that actions may become even more radical, said Ivan Nikolic from the non-governmental organization 'Communication for Society Development' in Gracanica.
Nikolic points out that the Serbs in Kosovo have been living in fear for 25 years, but no one expected that killings would occur again.
"It's simply unbelievable that in the 21st century, after so many years since the conflict, such things are happening again. But the saddest fact is that no one understands what actually happened. Statements from high-ranking officials are extremely different and further confuse the people who are already frightened by these unfortunate events. Speaking to people in central Kosovo from the Serbian community, they are afraid that this may also affect this side," Nikolic said.
Recent events in Kosovo have only escalated the situation, Nikolic claims.
"People were extremely afraid even before this incident due to frequent arrests, which were either unfounded or, from our perspective, extremely unfounded. People were very frightened by this, and it is believed that actions may become even more radical. Within closed and private circles, there are discussions about the need to stay at home and preserve patience and sanity because it is inevitable that this situation can be used against us in a very negative way," Nikolic emphasizes.
He adds that every negative situation in the north has repercussions in the south.
"In a way, the south has long been integrated, and in a way, we have long reconciled with certain facts. However, whatever happens in the north is reflected in security-type events, provocations, significantly colder communication with Albanian neighbors - these are essentially the mildest things, and very often there are more serious consequences," Nikolic concluded.