Vucic: I requested that KFOR take charge of all security issues in northern Kosovo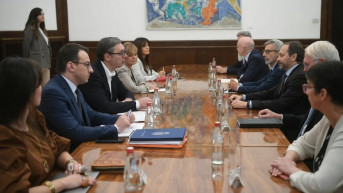 Source: Instagram/buducnostsrbijeav
President of Serbia Aleksandar Vucic announced today that during one of the most challenging moments for Serbia, he had held an important discussion with the Quint representatives and requested that KFOR assume responsibility for all security issues in northern Kosovo.
"I reiterated Serbia's position on the recent events in Kosovo and Metohija and requested that KFOR take charge of all security issues in northern Kosovo instead of Kurti's police. Additionally, I raised the question of why EULEX was denied access by the Kosovo Police to be present during the operation conducted on the territory of northern Kosovo," Vucic conveyed on his Instagram profile "buducnostsrbijeav."
Vucic met today with the ambassadors of the Quint countries: the United States, the United Kingdom, France, Italy, and Germany, as well as with the Head of the Delegation of the European Union to Serbia.