Vucic sent Easter greetings to Patriarch Porfirije: May the holiday prayers contribute to the preservation of the Serbian people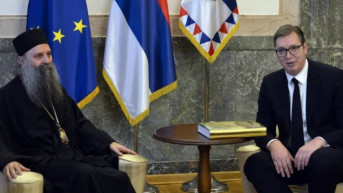 Source: Tanjug
The President of the Republic of Serbia, Aleksandar Vucic, sent Easter greetings to Serbian Patriarch Porfirije, clergy, and monks, as well as to all Orthodox believers who celebrate Easter according to the Julian calendar, the Press Service of the President of Serbia announced.
"Your Holiness, I extend my heartfelt greetings to you on the greatest Christian holiday, the Resurrection of Jesus Christ. May the Feast of Feasts, in which we celebrate the joy of eternal life, be an inexhaustible source of strength and optimism," Vucic wrote.
By preserving our faith and tradition and strengthening the virtues of peace, love, and tolerance – with joint effort, patience, and wisdom, the President of Serbia added, we defend our national interests and contribute to Serbia's development.
Vucic expressed the hope that holiday prayers and liturgies would contribute to the preservation of the Serbian people.
"The Serbian people are in a constant situation of fighting for their own survival, preserving the spirit and strength of the nation, and therefore, Your Holiness, I believe that festive prayers and liturgies will contribute to our unique response to all those who want the humiliation and disappearance of Serbia. In the face of the challenges that are set before our country, as they are before the entire world community, the preservation of peace and stability is an unshakable testimony to the Truth and Love of God. I wish that you spend the Easter holiday in peace, love, and joy. Happy Easter," the greeting of the President of Serbia stated.