Vucic: We are keeping the peace, but if they attack the people, I will not tolerate it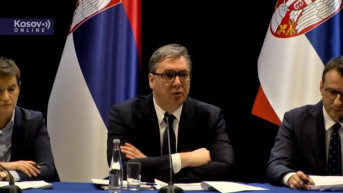 Source: Kosovo Online
President Aleksandar Vucic, addressing the gathered Serbs from Kosovo in Raska, pointed out that he understood that the Serbs in Kosovo would feel safer if the Serbian Army returned there, but stated that this was not a realistic solution, saying that if Pristina had the intention to expel the Serbs, Serbia would not allow it and it would not happen.
"It's not a problem, we will invest, it's important that people have to feed their families, but I know what you ask and expect from me, but you don't want to put me and the country in a difficult situation. The only news that would make you happy is that the Serbian army enters Kosovo and Metohija. You are essentially less interested in everything else, because only then would you feel safe," Vucic 
As the President and Supreme Commander of the armed forces, which are many times stronger today, Vucic pointed out that he did not think that this was the solution at the moment.
"I don't think our politics should be a politics of adulation, but of responsibility and concern. I also know what I promised at the last meeting in Raska when I barely begged people to move away from the barricades, even though I knew I would be the most cursed person... But, I also know that today, after several months, no matter how much you continue to curse me, you know that it was a responsible decision," Vucic said.
He said that Serbia had to wait, to build, and get stronger.
"And if they do what we talked about, and if it becomes obvious - that their intention is to expel the Serbs, that's all I can say, and take my word for it - we won't allow it and it won't happen," Vucic said.
He stated that he said this with full responsibility because he did not rush into conflicts for the sake of applause.
"We will do everything so that it never happens, but if they attack the people, I will not tolerate it... Everyone should know that. I am neither Milosevic, nor Tadic, nor Kostunica. But, we have to keep the peace, that is your interest and ours, the interest of the whole of Serbia," Vucic said.
The President of Serbia, Aleksandar Vucic, said today that Pristina was constantly provoking in order to cause a conflict, and in particular arrested the young and the bravest so that there was no one in Kosovo to oppose them.
Vucic, in a conversation with the Serbs from Kosovo, said that a campaign against the Serbs had been going on for many years, and often we participated in it ourselves, criminalizing ourselves, making victims of those who were anything but victims, but only helpers of those who worked against interests of the Serbs.
"When I accepted the role of someone who would not participate in the chase and harangue against Milan, Sresko, and all the other guys from the north, I knew what it was about. They want to drive away the most capable, bravest, and best guys from us, so that they could never meet any resistance; to do whatever they want. That's why they arrest them at the administrative crossing, shoot them, to send a clear message to everyone that they can't stay there," he underlined.
"Do you think Milan is the worst in the world, did he deserve thousands of front pages both in our country and all over the world. It doesn't seem that this is the reason, it looks like that the reason is that they fear him and see him behind every tree. And because they know that he will fight with their people, if God forbid it, comes to that," Vucic added.
He said that Serbia had its own agencies and knew very well what and who they mentioned, who was a problem for them.
"Don't underestimate your country. We know what their goals are," he underlined.
He said that he was familiar with that kind of indignation among people who would not accept that there was no reaction towards those who did the dirtiest work for Pristina.
"We cannot behave arbitrarily. Whoever violates the law of the Republic of Serbia, we react," Vucic underlined.
He said that he had known that the Serbs had been ready in September and December to fight to the end, and added that he had seen their misunderstanding regarding the decision to lift the barricades.
"Do you think, Srecko, that it was nice for me, I don't know what you all think. Do you think I'm heartless, but someone had to make a decision, which was the best at that moment. Just think how many lives were saved by that," he stressed.
He said that he could not understand a Europe that did not see who had a hyperproduction of provocations every day.
"Why are you building bases in the north? Only because they want to continue provocations, to enter into conflict, when it suits them," he said.
Vucic said that Pristina was constantly torturing and intimidating the Serbs, and that they chased the bravest so that they would be able to show up and say "we liberated Mitrovica".
He conveyed information that no one knew, that when the Pristina Special Forces had invaded the north, the guys from the north had occupied Mitrovica as some newly liberated territory.
"All of them were wearing masks, only one was without a mask," he added.
He said that then he had seen the emotions of the population that had greeted them.