Vucic told Escobar: Just dream of mutual recognition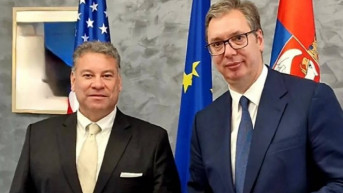 Source: B92
You could just dream of mutual recognition, answered the President of Serbia, Aleksandar Vucic, to "Novosti" when asked to comment on the statement of the US Deputy Assistant Secretary of State Gabriel Escobar, who said, "that the US fully supports the dialogue between Kosovo and Serbia, which is conducted under the auspices of the EU, and believes that mutual recognition should be the ultimate goal of that process".
"We believe that all the countries of the region should recognize each other, reduce trade barriers, help solve open issues that have been there since the 1990s, and progress in the process of European integration," Escobar told the Pavlovic Today portal.
The EU Special Envoy for dialogue between Belgrade and Pristina, Miroslav Lajcak, is visiting Belgrade tonight, where he will meet with Vucic.
The Slovak diplomat previously visited Pristina, where he met with the Prime Minister of Kosovo, Albin Kurti, to whom he told that all previous agreements had to be implemented. After that, Kurti wrote on his Twitter account that "Kosovo accepts the EU plan for the normalization of relations