Dodik: The idea of a "Greater Albania" is hidden behind the Western Balkan Four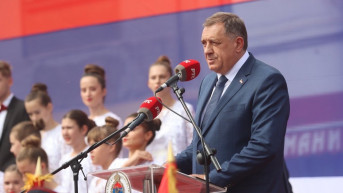 Source: Twitter
The President of Republika Srpska, Milorad Dodik, assessed today that the newly established Western Balkan Four was actually the "Albanian Four", behind which the old idea of a "Greater Albania" was hidden, and pointed out that the Serbian national goal was the unification of Republika Srpska and Serbia.
"Here, I am now saying that our goal is unification, which means that we will separate from Bosnia and Herzegovina and join Serbia. I'm serious about it and we're just choosing the moment when we're going to do it. There is nothing controversial," Dodik told reporters in Foca, according to Dodik's website.
He said that he expected comments on his statement in two days.
Dodik reasoned that the Western Balkan four was essentially an Albanian four, because there was an Albanian from North Macedonia, an Albanian from Kosovo, an Albanian from Albania, and the government from Montenegro, as it is.
"First of all, they are trying to create a story about a `Greater Albania', and they are only covering themselves with that story about Europe," Dodik said.
The Western Balkan Four was founded in Skopje and consists of North Macedonia, Albania, Montenegro, and Kosovo. The Minister of Foreign Affairs of North Macedonia, Bujar Osmani, stated that the platform of the Western Balkan Four "is in line with the Common Foreign and Security Policy of the EU, but also with democratic values and principles".
Dodik also stated that he was glad that US Secretary of State Antony Blinken had heard about him and had commented on him, but pointed out that the essence lay in the false information of the US Ambassador to Bosnia and Herzegovina, Michael Murphy, about the situation in Bosnia and Herzegovina and the issue of property that Republika Srpska would never give up.
"I'm glad that Blinken heard about me, so he's commenting on me. I'm glad that I'm on his agenda, and I'm especially glad that he thinks I'm so great that they can compare me to Putin, who is undoubtedly the leader of one of the biggest countries in the world," Dodik said in Foca.
Whatever Blinken thought about Putin, Dodik stated, Putin was the legitimate president of Russia, just as Blinken was the legitimate secretary of state, which should be recognized as a fact.
"What they attribute to him (Putin) they also attribute all sorts of things to the Americans, so what should we do," Dodik said.
He pointed out that the essence lay in falsely informing the American ambassador in Sarajevo about the situation in Bosnia and Herzegovina.
"They started the process of confiscating the property of the Republika Srpska, and that, of course, will not happen. Not even the power of America can force us to give up our property. They can take, but not with our will and our consciousness," Dodik said.
He emphasized that the Serbs had died and suffered because they had believed that they should defend their land, property, and freedom. Even today, all free people living in Republika Srpska understood that you could not do without resources.
"They persistently want to take away our resources and transfer them to damned Sarajevo. We don't want that to happen, we don't like Sarajevo. They must understand that it is a Muslim center for us. We go there only because we have to," Dodik pointed out.
He stated that those Serbs and Croats who had survived the war there were also leaving Sarajevo because they would no longer live in such circumstances, although he could understand that the American ambassador to Bosnia and Herzegovina was fine there because when they came to Bosnia and Herzegovina, those diplomats became powerful. they got residences and lived nicely.
"But it's not nice for us and we won't accept it. The issue of property was resolved by the Dayton Agreement and the Constitution of Bosnia and Herzegovina. We will not talk about any property. If you think we should be taken from us, try it," Dodik said.
Dodik also mentioned that he had won the elections in a democratic process, while the American elections had some problems of their own, so even today they were tried in the courts, but nobody in Republika Srpska.
American Secretary of State Antony Blinken stated on "Twitter" that "the attacks of the President of the Republika Srpska, Milorad Dodik, on basic rights and freedoms in the Republika Srpska show that he is on the authoritarian path of the President of Russia Vladimir Putin", and that "the State Department, represented by Ambassador Michael Murphy, continues to advocate for the democratic and prosperous future that all citizens of Bosnia and Herzegovina deserve".