Several thousand Serbs from all parts of Kosovo protested in Strpce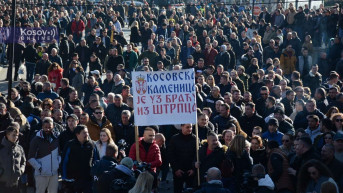 Source: Kosovo Online
Several thousand people gathered today in Strpce to express their dissatisfaction with the wounding of Stefan and Milos Stojanović.
In addition to the construction of Strpce, Serbs from central and other parts of Kosovo also arrived on the post.
The gathered citizens carry placards with the inscriptions "Kosovo Kamenica is with the brothers from Strpce", "One heart beats from upper Kusac to Strpce", "Kurti, we will not forgive what you did to children!", "Stefan, the heart of a Serbian hero!", "Shoot at Stefan and Milos is a shot in the heart of Serbia!", "Europe, what are our children to blame for?!", "Vucic, protect the Serbs and peace" and others...
With the people of Strpce there are political leaders of Serbs from Kosovo, representatives of the Serb List, President Goran Rakic, Vice President Igor Simic, member of the Presidency Slavko Simic and others, as well as presidents of Serbian municipalities.
Several Kosovo Police and KFOR patrols are present on the approach to Strpce.