Kosovo procures the most goods from Serbia, economists call for a boycott of Serbian products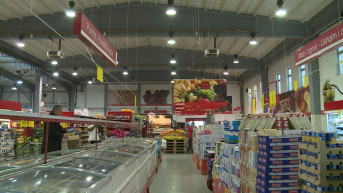 Source: N1 Info
According to the latest data published by the Kosovo Agency for Statistics, in 11 months, that is, from January to November, in Kosovo, the value of exports with CEFTA countries reached 303,899,000 Euros, while the value of imported goods amounted to 907,926,000 Euros. In that period, most of the goods were imported from Serbia, the portal Nacional writes.
According to the Agency's data, Kosovo paid 341,637,000 Euros for goods from Serbia in these 11 months, while goods from Kosovo worth about 59,030,000 Euros were imported into Serbia.
The most goods were imported in August - for 39,115,000 euros.
North Macedonia is in the second place, from which goods worth about 256,366,000 Euros were imported, while goods worth 107,098,000 Euros were exported.
Albania is in third place in terms of imports. From January to November, goods worth 227,259,000 Euros were imported, while 92,280,000 Euros were exported.
Kosovo imported goods worth 61,382,000 Euros from Bosnia and Herzegovina, while it exported goods worth 10,573,000 Euros.
This year, Montenegro was one of the last countries for Kosovo in terms of commercial cooperation. In 11 months, goods worth 34,910,000 Euros were exported, while goods worth 20,840,000 Euros were imported.
As "Gazeta Nacionale" announced, in November the import of goods from Serbia increased by 6.6 percent.
Economist Mustafa Kadrijaj said that "products from Serbia can be replaced by other products".
"This import is worrying due to the fact that we managed to replace these products, since Serbia is not the only corridor and the only opportunity to supply ourselves, and in this regard, Kosovo has the ability to cooperate and import any product it needs, but we cannot produce it," Kadrijaj said. 
He described it as a failure of the government and reminded that the ruling party, when it was in the opposition, constantly criticized imports from Serbia.
"It is a failure of the Government, because the political party that came to power, when it was in opposition, overturned the barges, while today when it is in power, imports with Serbia are only increasing day by day," Kadrijaj continued.
On the other hand, economic expert Edison Jakurti said that if the data was calculated, it would show that Kosovo pays one million Euros every day for products imported from Serbia.
"According to the Agency, Kosovo imported over 310 million Euros of goods from Serbia by the end of October this year. This is because we gave Serbia over a million Euros every day. Or about 42.5 thousand Euros every hour. Or about 708 Euros every minute. Or about 12 Euros every second. Boycott the goods of Serbia!", Jakurti announced on Facebook.