Arsic: The Kosovo authorities started a direct attack on the University; they stopped the construction of a new building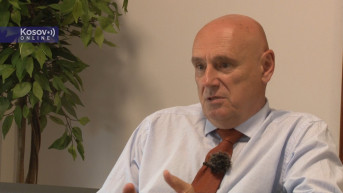 Source: Kosovo Online
The rector of the University of Pristina with its temporary headquarters in Kosovska Mitrovica, Professor Dr. Nebojsa Arsic, said in an interview for Kosovo Online that he was surprised by the decision of the Kosovo authorities to halt the construction of the University building, as well as other facilities in this city, such as a school for vulnerable categories and social housing.
"Works on the construction of the University building were suspended. We did not expect that, that decision surprised us all. Every day we watched how the construction progressed, floor by floor, and were waiting for it to be finished and to finally move into that new building, both the Rectorate and our faculties. However, a 'cold shower' followed, an unpleasant surprise, and we found out that the works had been suspended, and that their inspection came with the assistance of the police and closed the construction site. There is all the necessary documentation for the construction and there is a board on the construction site that is properly marked with information about the designer and contractor," Arsic says.
Is this a sign that after the "blow" by the Kosovo authorities on the SOC and the Serbian healthcare system, it is now the education system's turn?
So far, that impact has been indirect, through freedom of movement and other measures that have limited students' and teachers' access to classes and exams. Now we have for the first time a direct attack on the University, so I am afraid that this is not the end and that something will follow after this. We have to prepare how we will work in these circumstances. We are waiting for the development of the situation, to see if the international authorities will react. I am ready to send a letter to our international partners to inform them about this so that we can see if we can expect help in this regard because this affects our work.
From which international bodies will you ask for help?
We will inform the European University Association, as well as the international authorities in Kosovo. First of all, KFOR and UNMIK. I have regular meetings with them and I will send them a notification about what is happening, because just three weeks ago I visited that construction site, which is now closed, with the commander of KFOR. If it was something illegal, the commander of KFOR would not be with us then and I will inform him about this situation. I have a guarantee from them that classes will go on smoothly, so we'll see what happens next.
Who issued the necessary documentation for building construction?
All this was issued by the Provisional Body of the Municipal Assembly of Kosovska Mitrovica, so it is all being done legally. However, this is a classic display of arbitrariness and coercion, so they move on. In addition to the introduction of daily measures that make it difficult for us to work in terms of freedom of movement, the problem with license plates, with the arrival of students for exams and lectures, now we also have this. Working in these circumstances is not easy, but we do our best to provide the best possible conditions for studying.
The University of Pristina is a member of many international educational associations. Do you expect their reaction?
I must emphasize that we are not some illegal institution, that we are members of the European University Association and many other academic associations, we participate actively in international projects, we attend international meetings, we are also members of the Rector's Forum of Southeast Europe, we are recognized by all valid educational institutions. The only problem we have is with the authorities in Pristina. They, along with the verification commission, still indirectly recognize our diplomas, if we were illegal, this would not have happened.
Does the situation in the north and everything that happened in the previous weeks complicate enrollment, do you have students from all over Serbia?
Of course, it was a big problem for us and we anxiously awaited the June period of enrollment, bearing in mind all the circumstances in which we live and work, considering that one-third of the students come from other parts of Serbia, especially in the second period of enrollment. Some students who fail to enroll in some of the desired faculties at other Serbian universities come to us. We offer excellent conditions in the sense that we provide a large number of enrollment positions that would be financed from the budget, and we also have the most attractive majors and study programs. When we talk about the June period of enrollment, I can say that we have filled 70 percent of the quota for the students financed from the budget. However, it is not evenly distributed, there are study programs for which there is a greater 'demand', for example, medicine is practically full. There are also vacancies for students financed from the budget and for self-financing students at other faculties, and we will inform the public about the number before the second period of enrollment in September when we will invite students to enroll in one of our faculties. But the prerequisite for everything is a stable political situation, that these people can come freely and that parents can send their children to us without any worries.
Which faculties were the most interesting for enrolling in?
In addition to Medicine, study programs at the Faculty of Technical Sciences, programming, information technology, and psychology at the Faculty of Philosophy are in demand, the enrollment quota is almost completely filled out in the first period of enrollment, but we always expand those numbers if there is a need for students. We received approval from the Accreditation Commission to expand the list with the number of students. We have vacancies for self-financing students; our tuition fees are much lower compared to all other universities in Serbia, so even if someone does not get to be budget-financed, but self-financed, he will study at two, to three times lower prices than is case at other universities.
At the University of Pristina, tuition fees are between 18,000 and 100,000 Serbian dinars per year, which is half as much as compared to some similar faculties at other universities in Serbia...
Yes, for example, a year in dentistry, which is practically the most expensive, costs 100,000 Serbian dinars at our university, because the complete material for work must be provided, from dental chairs to the necessary materials.
Is there an option to organize a third period of enrollment and for which faculties?
If there is a need for that, we will organize a third period of enrollment in October, but we will know that after the September period of enrollment. If last year's enrollment in June is our benchmark, this year we have about fifty fewer students compared to last year, when the situation was much more stable. This gives us hope that we will be able to fill the remaining vacancies in September as well. But you should also take into account demographic trends. And many universities in Serbia do not have the problems that we have, so they still fail to enroll the planned number of students in some study programs. There are a number of faculties that are successful, what is attractive is filled at all universities, but you also have faculties that cannot fill out the stipulated quota. These are trends and we are a part of them and we cannot stand out. The pattern is similar, what is popular in Belgrade, Nis, and Kragujevac is also popular here. The same rules apply to us as to other universities in Serbia, we are no exception.
Do you invite students from other parts of Serbia to apply to the University of Pristina in the second period of enrollment?
I did it back in September, and the response was positive, but there were also criticisms, "How dare I call children when the political situation is like this?" What is provided for our children from Kosovo and Metohija will also be available to a student from any other city, from other parts of Serbia. The invitation says, we will try our best to provide them with the best possible conditions for studying, and we expect that international organizations, which are responsible according to Resolution 1244 of the UN Security Council to ensure peace and political stability in Kosovo and Metohija, will work on this and provide safe and secure education and health, which are one of the basic human rights and that our students have the same rights as their other colleagues.