A Chinese student came to the north of Kosovo to support the Serbs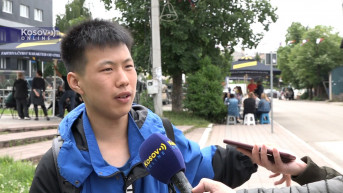 Source: Kosovo Online
The Serbs in the north of Kosovo have been peacefully protesting for seven days in front of the municipal buildings where the new mayors, Albanians, have entered, with the help of Kosovo Special Forces, and in this, they have also received support from one - Chinese.
Han Mingji, a native of the Chinese province of Anhui, studies in Italy, and is currently in Leposavic, where he came to support the Serbs, because, as he says for Kosovo Online, they are right.
"I am studying in Italy; I am interested in political topics. I heard what is happening here, that the new mayors are Albanians, that there are conflicts. I wanted to come and see for myself what is happening," he says.
Italy, he says, is not far away, he first traveled to Montenegro and from there by bus to Pristina and Mitrovica, and now he is in Leposavic.
"The situation is complicated, I don't know many details about everything, but those who are protesting are right. There are Albanians in Pristina, but here are the Serbs, not Albanians, so the mayors should also be Serbs. It is not good for them to be Albanians." this young man is convinced.
It is good, he says, that there is no violence, and he especially notes that he has not had any problems anywhere in the north.
"I feel welcome, I was greeted in a friendly manner among the Serbs in Leposavic," he adds.
His journey from the north of Kosovo takes him further to Serbia, to Nova Varos, then to Belgrade, and then he returns to Italy.