Jevtic: A great tragedy has occurred in Banjska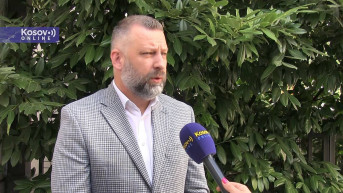 Source: Kosovo online
Vice President of the Serb List, Dalibor Jevtic, emphasized tonight that a great tragedy had occurred in Banjska just over a week ago and that an international investigation into what happened had to be conducted.
In the "Hit Tvit" show on Pink TV, Jevtic stated that the only information available about the event was what had been reported in the media, and from conversations with colleagues, it seemed that others also had limited information.
"What happened is indeed a great tragedy because a loss of life is always a tragedy. However, we must not view this tragedy solely in the context of what happened in Banjska seven days ago. We need to understand how we got to this point," he warned.
Jevtic recalled several meetings that Serbian President Aleksandar Vucic had with representatives of the Serbs in Kosovo, citing the example of the meeting in Raska on October 13, 2021, when there had been a shooting in North Mitrovica and Srecko Sofronijevic had been injured.
"At those meetings, you could hear and see how people in northern Kosovo and Metohija felt and how the whole situation was on the brink of conflict. I believe that both President Vucic, the Director of the Office for Kosovo and Metohija, Petar Petkovic, and my colleagues from the Serb List have publicly warned the international community nearly 200 times about the dangers of the policies pursued by the Pristina regime, the wrong policies that lead to people feeling insecure and threatened," he said.
At those meetings, he recalled, people had said they could no longer tolerate that terror, and if politics and diplomacy hadn't yielded results, they had to defend themselves.
He said that the position of Goran Rakic and Igor Simic, who had protested and sought to fight for their rights in a different way, had by no means been easy.
"We must not view this tragedy solely in the context of that event; it is the consequence of everything that happened before it," he underscored.
Jevtic conveyed that the current situation reflected poorly on the Serbs in Kosovo.
"Our lives were difficult until Sunday, September 24th, and relations have deteriorated further, with tensions affecting daily life," he added.
Jevtic recalled the event of January 6th when a KSF member had shot at Serbian children in Gotovusa, adding that it was the result of Kurti's policy towards the Serbian community.
"That Albanian came from Kacanik and shot at children carrying a Christmas tree on Christmas Eve. This image best describes the situation of the relationship we have due to the bad policies of the current Pristina regime. That day was very difficult, and it was challenging in those circumstances to prevent that justified anger from flaring up," he explained.
He said that the situation in which the Serb List had to act politically was not easy because their job was to preserve peace.
He reminded that President Vucic had stated that peace was our greatest interest, and sometimes we had to make difficult decisions to maintain it.
"And this tragedy has shown that it's better to talk for a hundred days than to engage in conflict for a minute. We will insist on that, but the fact that the international community is exerting pressure and looking at events differently, with little understanding for the terror the Serbs in Kosovo and Metohija endure, I fear will have negative consequences," Jevtic added.
He expressed regret that politics and diplomacy, those who were supposed to heed these warnings, had not reacted in time to prevent the tragedy that had occurred in Banjska seven days ago.
"I think it's more than clear that we must do everything to prevent another tragedy. To finally achieve peace, and from that perspective, we should have listened more to what President Vucic had to say in a situation where the circumstances were not at all easy for Belgrade's position," he explained.
Regarding the audio recording of the testimony about the killing of the wounded Serb, Jevtic said that the recording was not familiar to him, and he believed that the actions of the Kosovo Police could only be examined from a legal perspective.
He emphasized that even in situations of armed conflict, executions were not allowed, which was why he insisted on an international investigation of the events.
"This international investigation should provide answers to many questions. I don't want to draw parallels, but the question that arises is how the international community reacted in other situations. I am thinking of North Macedonia, but also southern Serbia. The international investigation should provide answers to this and many other questions," he concluded.
When asked whether Milan Radoicic should have resigned from his position as Vice President of the Serb List due to disagreements, Jevtic stated that he had not consulted anyone in the party or in the leadership in Belgrade.
"As a political party, we have always advocated for using political and diplomatic means to fight for the rights of the Serbs in Kosovo and Metohija. Radoicic's statement provided answers to the questions that were raised," he added.
Jevtic said that Radoicic was a person who enjoyed great respect among the Serbs in Kosovo and had helped people.
"The fact that he came out publicly and explained everything about the event shows that the decision he made was not a political one but a decision made by him and the people who opted for such a step as a result of everything that has been happening, especially since Albin Kurti came to power, endangering the normal life of the Serbs in Kosovo and Metohija," he explained.
He pointed out that since the EU's statement, which had called for de-escalation in northern Kosovo, there had been 22 escalatory incidents of various kinds.
Jevtic said that Kurti had put the Serbs in a deadlock, leading some to take this step.
He emphasized that the SOC is the target of the Pristina authorities because the church is a cornerstone and pillar of the survival of the Serbs in Kosovo.
"They need an alibi to criminalize the SOC, as well as the largest political party of the Serbs, as well as hospitals and clinics. Medical teams have been stopped by the police 178 times," he added.