Sutanovac: Regarding the behavior of the Kosovo authorities, the ball is in the court of Brussels and Washington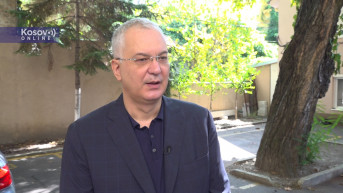 Source: Kosovo Online
Former Minister of Defense of Serbia, founder of the Council for Strategic Policies Dragan Sutanovac assessed for Kosovo Online that "the ball is now in the court of Brussels and Washington, and even Berlin" when it comes to the behavior of the Pristina authorities, including the last situation where KFOR was not informed in a timely manner about the arrest of three Serbs.
Despite the fact that NATO Secretary General Jens Stoltenberg clearly stated that the Kosovo Security Forces cannot go north without the permission of KFOR, and that the Kosovo Police should coordinate their actions with this mission, this was not the case in this case. As they said from KFOR, the Kosovo police informed them about the action of arresting the three Serbs later, a day after the arrest actions were carried out.
Sutanovac points out that it is clear that Kurti is implementing his political agenda regardless of the reaction of the international community, negotiators, NATO and KFOR.
"His political agenda is first of all to intimidate the Serbs living in Kosovo and thus facilitate their departure from Kosovo or to stage and provoke a conflict in which he would accuse the Serbs of being guilty of that conflict. In addition, if a conflict could still occur Serbs from the north of Kosovo and KFOR, that would be the best possible option in his situation. I think that he, not that he does not live in real time, but on the contrary, he is a man who does not respect either what was signed or what was agreed, but it is obvious that he does not even respect the demands of those who practically made Kosovo a state at one time," says Sutanovac.
He points out that Kurti is in conflict with the entire region.
"What he did recently in Tetovo, what he did towards the Serbs, the campaign he led against Miroslav Lajčak, both in the media and in his statements, confirms this conflict. I'm sure he would have done the same for Gabriel Escobar if he had the courage and courage. I have no doubt that he is a man like an unguided missile, who has no control and has only one project that is a complete utopia, because it is impossible to implement it," emphasizes Sutanovac.
When asked how he sees the resolution of the whole situation and whether the dialogue between Belgrade and Pristina can even be continued after all, as well as whether and in what way the demands made by the international community to Kurti will be realized, Sutanovac says that now everything is in the hands of Western countries.
"I expect Washington, Brussels, and Berlin to exert pressure now, the ball is now in their court, they know how they used to implement sanctions against others, they know how they can implement sanctions against Kosovo and against the Kurti administration, above all against his administration, because I don't think that all citizens in Kosovo are people who support conflicts and would like to see some unrest in Kosovo, on the contrary," points out Sutanovac.
It indicates that it is high time to realize it.
"What is also a fact is that Kurti has a very strong lobby, primarily to parliamentarians across Europe, in Britain Alicia Kearns is practically his promoter. The media are working on it, they even managed to convince a part of the public in Serbia that he is in right, and that the USA, the EU and everyone else are wrong. However, it is important to say that the administrations in the West are very precise and clear, that it is clear to everyone that Kurti is not a man of agreement and that he cannot be counted on. Escobar said that the agreement from Brussels will be implemented with or without Kurti, and now it's up to them to see how it will go without Kurti or with Kurti," says Sutanovac.
He adds that he believes that KFOR will stay out of the way as much as possible.
"I would not like KFOR to have to get into a situation to react, because that would mean that we have reached the stage of conflict, and if we get to that stage, it will be a disaster, first of all, for the Serbs living in Kosovo, because we would be there, but what this so-called victory would mean. We lost a lot in a situation where the whole world now finally perceives Kurti as a man who creates problems. If they dragged us into conflicts, it would be a big problem," he says.
He points out that, on the other hand, KFOR can certainly stop the special units of Kurti's security forces.
"KFOR can stop the units of Kurti's security forces, but we have to keep in mind that there are not as many KFOR soldiers in Kosovo as is assumed, they are not tens of thousands of soldiers who are all over Kosovo. On the contrary, those who are stationed there are only for emergency interventions, for something more serious, units from Europe would have to be transferred to Kosovo, and in a situation of a major war and the preparation of some other countries for a possible attack on them, I am not sure that this would be a realistic situation," says Sutanovac.