Szijjarto: The issue of Kosovo should not be a condition for Serbia's European integration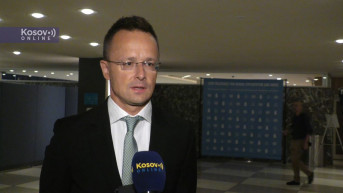 Source: Kosovo Online
The Minister of Foreign Affairs of Hungary, Peter Szijjarto, said today for Kosovo Online that the issue of Kosovo should not be a condition for Serbia's European integration, and promised that during the Hungarian presidency of the EU, in the second half of 2024, there would be greater progress on Serbia's path towards the EU. if it didn't happen sooner.
"We are keeping our fingers crossed for the success of the dialogue between Serbia and Kosovo and we believe that this situation can only be resolved through negotiations. However, we do not accept raising the issue of Kosovo as a condition for Serbia's European integration," Szijjarto said in New York.
He stated that the EU was currently, unfortunately, in a very bad state.
"We, the Hungarians, are in favor of strengthening the EU. To the question of how we can strengthen the Union, we offer an answer, which is enlargement. The more we are able to expand, the stronger we will be," Szijjarto is confident.
In this sense, he points out that Europe needs the Western Balkans to join as soon as possible.
"The most important country in the Western Balkans is Serbia. It is in the interest of Europe that Serbia joins as soon as possible. We cannot accept the behavior of Brussels and some Western countries towards Serbia, because we really believe that the Union needs Western Balkans more than the region needs the Union," Szijjarto said.
That is why he hopes that already this year, progress will be noted in terms of Serbia's accession process to the Union.
"If that doesn't happen, then next year, during Hungary's presidency, we will take huge steps. I can promise you that," Szijjarto said.