Elek: Kosovo Police Special Forces forcibly entered Clinical Hospital Center Kosovska Mitrovica, conduct searches in certain rooms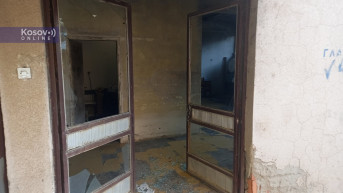 Source: Kosovo Online
This morning, there was a violent incursion by Kosovo Police Special Forces at the Clinical Hospital Center in North Mitrovica, Dr. Zlatan Elek, the director of the institution, confirmed for Kosovo Online.
Elek states that the special units of the Kosovo Police are still present in the hospital and conducting searches, causing distress among both staff and patients.
"They are conducting searches in the laundry room and certain offices at the hospital entrance. Without any knowledge of the hospital's management and administration, Dr. Dragisa Milovic and I, as the director, established contact with them, and they told us that they had a search warrant from the court. They are still within the hospital grounds, causing great distress among patients and staff," Elek reported.
As reported by Kosovo Online's correspondent, armored vehicles of the Kosovo Police Special Forces are also located near the Grey Café in North Mitrovica, which is situated just 10 meters from the "Danica Jaramaz" preschool institution. Parents are bringing their children, who are terrified by the sight, and EULEX is also present.
The Kosovo Police posted on Facebook that they were executing an order from the relevant court to conduct checks at five locations in three municipalities in northern Kosovo.
"These operations are related to recent events in the village of Banjska. Relevant units of the Kosovo Police are conducting this police operation in the presence of a prosecutor on-site. On this occasion, the Kosovo Police informs citizens that there is no need to be concerned. Control orders are being executed in coordination with EULEX and KFOR," the Kosovo Police stated.