Residents of Banjska for Kosovo Online: We are all in shock; how much longer will we live in fear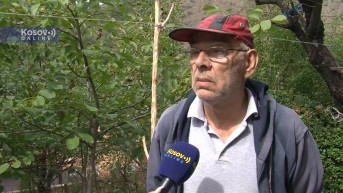 Source: Kosovo Online
Retired educational worker and Banjska resident Milenko Lukovic told Kosovo Online that, after the incident on Sunday in which three Serbs and an Albanian police officer had been killed, his village now only felt fear, anxiety, and uncertainty. He said that he had been sitting on the floor with his family during the incident while the house had shaken from the detonations. He explained that the police had entered his property, and had broken into his daughter's house and an auxiliary building. He expressed that he had no expectations or hope for a better tomorrow.
"What can I tell you, it's terrible, horrifying, such fear, my grandchildren were inside... The house was shaking from the detonations. We sat on the floor, the same the next day all day. I really don't know what to do or how to proceed anymore. It's not about me; I'm in my old age, but there are little ones here, eight underage grandchildren. Where to, what to do? What have we done wrong to deserve this, these attacks, killings, and arsons? I don't know how long this will continue. I don't know if it's our fate or the will of the stronger ones, but it seems they can do whatever they want to us," Lukovic said.
He pointed out that the Kosovo Police had been on his property the day before and that they had broken into his daughter's house and an auxiliary building, even though, as he claimed, he would have opened everything if they had asked.
He also said that some other houses in the neighborhood had been broken into, and through tears, he added that neither he nor his family could calm down.
"We are destroyed. I'm ashamed that I'm shedding these tears now, but pain and fear are stronger than anything else. No one left their houses; we didn't dare to leave. We had no contact with anyone in the village," he said.
Lukovic emphasized that the residents no longer had trust in anyone and did not expect things to get better.
"When the state's leadership constantly says, 'we had constructive talks, we talked with friends,' but whose friends are they, Serbian enemies? Who is doing this? The representatives of KFOR, UNMIK, and EULEX, should someone dare without their permission? Because looking out the window the next day, there were more KFOR members guarding the police. It's clear who openly opposes our people and who is looking to destroy and expel us from here. They blame Kurti, but he is just carrying out the orders of KFOR and EULEX, or Biden, Schulz, Macron, and I won't list them further," Lukovic stated.
He pointed out that if we looked into the past, it was always the same people persecuting the Serbs.
"We are weak, small, we endure, get nervous, and what can we do? That's our life and daily life. I don't expect anything better. If I could say to the Government of Serbia and Serbia, let's somehow resurrect Arsenije III Carnojevic and let him lead us somewhere for salvation; otherwise, this kind of life is not worth it," Lukovic concluded.
Svetlana Lukovic from Banjska told Kosovo Online that she had been in a state of depression since Sunday when the shooting had occurred in the village. She recalled getting up to feed the chickens and then realizing what was happening. Since then, she says, the tears haven't stopped.ž
Svetlana Lukovic also runs a small shop in Banjska, but since Sunday, no one has entered it. Everyone, she emphasized, was scared.
"I don't know what to say; I'm under therapy. When I entered my house and sat down, they poured water on me. I'm in a state of depression. We are all in shock," Lukovic said.