The Serbs in areas south of the Ibar River: Tension, insecurity, sadness, and helplessness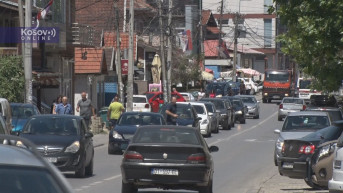 Source: Kosovo Online
Every crisis in northern Kosovo reflects on the Serbs living south of the Ibar River, so after the events in Banjska, there is a sense of uncertainty, fear, sadness for the casualties, and helplessness, according to the interviewees of the Kosovo Online portal.
Igor Joksimovic from Gracanica says that the situation in central Kosovo is similar to that in the north.
"People here empathize with the people from the north. We are all the same; we are all Serbs. What happened is not good, and I mourn the police officer who died, as well as the Serbs who died. There is a culprit, and it's known who it is, someone who really wants to come to this. The situation needs to calm down as soon as possible and return to normal to some extent. We all have to live here together, that's inevitable; we just need smart heads to sit down and calm the situation. There is a great fear after everything that has been seen, and it's not the same. It's not easy to be a Serb today," Joksimovic said.
His fellow citizen Momir Jevtic says that the situation is always tense, but it's especially felt after the events in Banjska.
"It's tense here non-stop, and only certain events add fuel to the fire. People are upset, and we are waiting to see what will happen next," Jevtic emphasized.
Zoran Mitic, also a resident of Gracanica, believes that things will eventually get better.
"It will be good, it will get better," Mitic said.
Ljubica Nedeljkovic from Novi Badovac says that there is currently an atmosphere of uncertainty.
"There is a sense of insecurity, sadness, and helplessness. Simply put, you don't know what to do with your life," Nedeljkovic said.
Candles will be lit today at noon in Gracanica for those who died in Banjska.
The events in northern Kosovo have negatively impacted the residents of the municipality of Strpce and caused concern. Local Slavica Redzic emphasizes that she is most concerned about the safety of the children.
"We are not comfortable; it's hard for us. We are constantly in uncertainty about what will happen here with us, that the same thing as down there won't happen. It's uncertain for us and for the children. Our children go to school, we are afraid, we have to go with them to school and wait for them. We never know what will happen," Redzic said.
"This certainly affects all of us because we are aware that this can also happen to us here," another resident of Strpce, Dragan Milovanovic says.
Javorka Simic from the same place claims that the situation is not as it used to be.
"It came suddenly, unexpectedly, so people don't feel comfortable. There is stress, trauma, thinking, and conversations about what will happen tomorrow. It's not as it used to be," Simic said.
Every situation in northern Kosovo reflects on the lives of the Serbs south of the Ibar, another resident of Strpce, Jelena Janicevic says.
"The recent situation in the north has made us feel unsafe and insecure, and there is constant fear and stress. Besides empathizing with our compatriots in northern Kosovo, we also feel fear for all of us who live south of the Ibar," Janicevic emphasized.