Does Brussels still have any trump card after admitting that the dialogue has failed?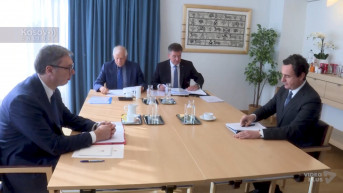 Source: Kosovo Online
Brussels' confirmation that yesterday's round of dialogue between Belgrade and Pristina experienced a debacle because Kosovo Prime Minister Albin Kurti did not accept the European Union's compromise proposal, opened the question of whether the negotiation process has hit a wall or whether there is still a way to keep it alive. Analysts from Belgrade and Pristina believe that at this moment it is necessary for Brussels to show that non-constructiveness entails serious sanctions, but they note that from the latest statements from the EU and the USA, it can be concluded that there is still no plan for what the next steps will be.
The High Representative of the European Union for Foreign Affairs, Josep Borrell, announced yesterday after more than five hours of talks that Albin Kurti had not wanted to accept the compromise proposal of the EU, but that he had insisted on the provision on the recognition of Kosovo by Belgrade, while for the President of Serbia Aleksandar Vucic that he had accepted the EU's proposal on the path to the normalization of relations. Clarifying yesterday's messages from Borrell, EU spokesman Peter Stano said today that the head of European diplomacy had not said that the dialogue "failed", but that the round of dialogue held yesterday "did not bring results" as the parties had not agreed.
Stano also reminded on Borrell's warning that Kosovo and Serbia risked being left to watch how everyone around them in the region was progressing in negotiations with the EU, and they were standing still because the dialogue was a part of the negotiations with the EU for Serbia and Kosovo.
Scientific associate at the Henry Jackson Research Center Dr. Helena Ivanov tells Kosovo Online that yesterday's negotiations in Brussels showed that the European Union must take the situation seriously and additionally tighten its attitude towards those who do not fulfill their obligations and apply sanctions that will also be felt by the citizens and the government that represents them.
"It is not known what round of negotiations this is, from which we either come out with some agreement that in the end is absolutely not respected in practice, but we see escalations mainly after some negotiations, such as in May, after the talks in Brussels and Ohrid," Ivanov said.
She emphasizes that yesterday's round of negotiations between Belgrade and Pristina led to the fact that, when it comes to the Kosovo authorities, some proposals are even rejected.
"If the EU wants to maintain credibility and really play a constructive role in these negotiations, they must clearly communicate what the sanctions are if the agreements are not accepted or if the contractual obligations are not fulfilled. On the other hand, those sanctions must really be implemented in practice," Ivanov believes.
According to her, we have reached a situation where "verbal threats are no longer enough".
"We can expect Brussels to react more harshly now, and it wouldn't be the first time. In May, after the last round of escalations, we noticed a harsher tone from Brussels and the USA, but I'm just afraid that that harsher tone is no longer enough. We heard it in May, and now we see the refusal to fulfill the contractual obligations that date back to the Brussels Agreement in 2013. A harsh tone is a good thing, but I think that some concrete measures are necessary," Ivanov points out.
Regarding what specific measures the EU could apply to Kosovo, she says that one of the measures could be the suspension of visa liberalization.
"For example, something that was mentioned was visa liberalization. That can be one of the measures. It is very important that in the negotiation process, it is clearly stated what the sanctions are for both sides if the implementation of what was agreed is refused and if one of them is destructive in negotiations," Ivanov emphasized.
As she points out, as long as one side thinks it can do something without being seriously sanctioned, it will do it.
"In this situation, I believe that Kurti was simply convinced that even if he refused this proposal, the consequences for him would not be too serious. Therefore, I think that if the EU does not really show that there will be serious sanctions for refusing negotiations and non-constructiveness, which will be felt by ordinary citizens and the government that represents them, I think that we will just go around in circles as we have done so far," Ivanov concludes.
The opposition in Kosovo believes that after yesterday's failure in Brussels, Prime Minister Albin Kurti should resign, and a political analyst from Pristina, Mimoza Gavrani, says that Kurti has some political agendas of his own that are more aimed at his popularity, than policies that would help Kosovo.
Gavrani told Kosovo Online that yesterday's dialogue had been important because it had been organized four months after the last meeting, but that there had been no positive outcome.
"Unfortunately, Kosovo went to this round of dialogue under sanctions from Western countries and we all know that these sanctions have given a bad position to Kosovo and its future. I think it is also important to talk about it and to know that Mr. Borrell, Europe and the USA in the meantime are still interested, and they are giving support to Serbia and Kosovo to continue the dialogue process. As we all saw and expected, the result of this meeting was not positive in terms of the process and in terms of the dialogue and going further in that process, so, I think that the last result of the dialogue puts Kosovo in a bad position. It is also very important that Mr. Kurti has an exact agenda for how we will proceed when it comes to this process," Gavrani said.
The good news, she points out, is that the current situation in the north is calm.
"But that does not give any guarantee to be relaxed and not do anything regarding the Serbian parts where we need to organize some other activities that will reconcile the situation," Gavrani points out.
The statements that came from the EU and the USA after the dialogue show that there is still no plan for what the next steps will be, Gavrani assesses.
"But I think that this situation certainly does not give any positive relationship regarding the politics in Kosovo and regarding the politics led by Mr. Kurti. I think it is important that he is also aware of these steps that are not steps that give support to Kosovo. I think that in these difficult meetings, and in these difficult moments, Kosovo should be stable in this process and also have people who are ready to make important decisions in important moments. We all know that Mr. Kurti has some of his political agendas more for the sake of popularity than active politics, which would help Kosovo and the Balkans," our interlocutor said.
She emphasizes that the support of Lajcak and Borrell should be used in the best way when it comes to dialogue.
"Yesterday, the opposition in Kosovo also had direct proposals for Mr. Kurti, one of which was that he should no longer be the Prime Minister of Kosovo, and the second was that we have another leader in Kosovo who would be ready to take this responsibility and move forward in the dialogue process and other processes, and agreements that we could not implement," Gavrani said.
Gavrani assesses that Kurti's comments are mostly addressed to his voters and that this is not what the people of Kosovo expect from him.
"It is not the kind of policy that would help the Serbs and Kosovo in general in this process that we are currently in. I think it would be good if Mr. Kurti took a direct interest in what concerns the Serbs in Kosovo, what are their problems, what the situation in which they find themselves is, and at the same time be responsible to the people living in Kosovo, to give them hope for the future that the Serbs are also an important part of this country. At the end of the day, that's all we have from Ahtisaari's plan that is important, not only for the Serbs but also for all other communities that should be actively involved and have a policy that helps them to be integrated into this system," Gavrani believes.
Kurti, according to her, makes suggestions that are popular, but he is not the one who decides when the dialogue is over.
"The elections in the north are the first step that Kurti's Government should organize, but they should also be aware of coordinating with everyone in this country who is still ready and politically interested in supporting Kosovo. If these are not the next steps, then Kurti should finish his mandate, then we will all see that he could not accept difficult decisions for the future of Kosovo and that is a position where we will see that Kurti is not a political leader who would take these important steps for Kosovo. Kosovo should have people or other leaders who are ready, who know that Kosovo is now in a situation where it needs to take some steps and be able to prepare some terrain so that the Serbs, but also all other people who live here, feel safe, and to have some hope to live in this country," Gavrani said.
The European Union denied today that Kurti's proposal had been the only one on the table in Brussels, and Gavrani says that the leaders made different statements after the meeting.
"I think it could be a move by Kurti because no one knows what Kurti, Vucic, and Borrell said at the meeting, and when we heard their statements, they were not the same, and we wonder if they were at the same meeting at all," Gavrani said.
It is important, says Gavrani, to put personal interests aside now.
"In these processes, which are very important and sensitive for Kosovo, I think it is most necessary to have leaders, not people who are there to defend their personal positions, which is not democracy and politics of the 21st century," Gavrani concluded.