Velebit: In US interest to have Serbia as its ally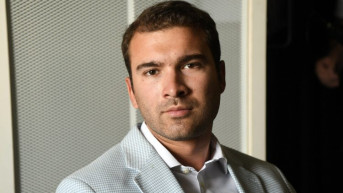 Source: Nova S
The Executive Director of the newly established Pupin Initiative, Vuk Velebit, in an interview with Kurir, states that within the organization, there is an awareness that better Serbian-US relations mean a better position for Serbia in the region and the broader international context.
Despite differing views on the Kosovo issue, he emphasizes that Serbia can now pursue its interests regarding the security of the Serbs in Kosovo and the respect for their human and religious rights in cooperation with the United States. He reminds that Russia and China do not have such power on the ground, whether people like it or not.
The Pupin Initiative was recently launched with the mission of enhancing Serbia's connection with the United States. What does the new Serbian patriotism, as you've called what the new organization wants to promote, mean for strengthening ties with the US?
In the Pupin Initiative, we believe that it is time for a new generation of people who look towards the future and seek better understanding and improved connections between Serbia and the US. We are aware that improved Serbian-US relations mean a better position for Serbia in the region and on a broader international scale. The Pupin Initiative will focus on Serbian interests, and this represents a new form of Serbian patriotism for us.
Does your vision of patriotism clash with traditional Serbian patriotism, perhaps the more vocal and, according to research, the majority of which does not have as much trust in the West and the US? How do you intend to change that?
New Serbian patriotism should not be reserved for anyone but open to all. The strength of patriotism should lie in being focused on people, beliefs, and values. I was born in the mid-1990s, and I am looking towards the future, towards what we can achieve together with Americans to improve living here. But I fully understand the frustration of our people and their disappointment in the West's policy towards Serbia. I believe that the current US administration has a better understanding of Serbia's position and its significance in the Western Balkans region. Given Serbia's location and size, it will continue to play a crucial role in the political and economic processes that are essential for our region. A prosperous Western Balkans requires a strong Serbia unwaveringly supported by the United States, with a shared vision for mutual growth and stability.
When we talk about strengthening Serbian-US relations, it's fair to say that, apart from public opinion, there are also objective obstacles that we've been stumbling upon for years, even decades. How challenging is it for you, as a newly established organization focusing on these relations?
History is the teacher of life, but politics shapes the future. History teaches us that Serbia-US relations are like relations between other countries and great powers, full of ups and downs, but we look forward. We are oriented towards the future of building a partnership between Serbia and the United States. I believe that ordinary US citizens and Serbian citizens have much more in common than we think. The Serbs in the US are very successful people in various industries, and the perception of Serbia among ordinary people is quite good. Likewise, when Americans come to our country, they quickly adapt and get along with our people. I think we should talk more about what unites us and what we can do together. Serbian professionals already play a crucial role in US companies, while Serbian startups are becoming more and more successful in the US market, creating fertile ground for shared knowledge and innovation.
How will you approach the topics that have burdened relations between Serbia and the United States in the recent past, such as Kosovo, which has been one of the most significant stumbling blocks?
You know yourself that in Serbia, it's challenging to separate politics from history. If we can separate politics from history, then it will be easier for us to build new alliances or renew old ones. Politics carries with it flexibility and pragmatism, which are necessary elements for building the future. Serbia and the United States have different stances and views on the Kosovo issue, but Serbia today can achieve its interests regarding the security of our people in Kosovo and the respect for the human and religious rights of the Serbs in cooperation with the United States. Whether we like it or not, neither Russia nor China has the power on the ground to help us in this matter.
Who are Serbia's allies in achieving its national and state interests?
Serbia needs allies today, and that's why we have to build trust with our partners to make them see us as serious and responsible allies, regardless of who is in power in Serbia today or tomorrow. To begin with, it's enough for us to be aware of our economic and geographic realities and define our foreign policy priorities and goals accordingly. By doing so, we will better understand who our foreign policy partners and allies are without whom we cannot achieve our objectives. Therefore, I believe Serbia must not allow itself to become a bridgehead that others could use to destabilize this part of Europe. Americans are aware of the significance of Serbia's position in the Western Balkans, so I believe it's also in the US interest to have Serbia as its ally. Likewise, I believe it's in Serbia's interest to have the US as its ally, and I think it's patriotic to say so. I view Serbian-US relations from the perspective of Serbian interests and believe in Serbia's ability to exert its influence through its economy, capital export, and attractiveness for investments.
What areas will the Pupin Initiative focus on? At first glance, people often think of politics, our diaspora, and diplomacy, but what you're trying to do is much broader, isn't it?
The Pupin Initiative is the first Serbian privately-funded non-profit and non-partisan organization headquartered in Belgrade and Washington. Our mission is to work on strengthening Serbian interests and to follow the path of what Pupin did more than 100 years ago. We've started building relationships with everyone dealing with the Balkans in the US, and we'll provide an understanding of the local and regional context and the importance of stronger cooperation between Serbia and the United States. We're already working on attracting and exchanging knowledge and experience between the Serbs and the Americans. The Serbian diaspora, both old and new, in the United States represents an invaluable but mostly untapped resource with the potential to serve as a powerful platform for various forms of engagement. Through the Pupin Initiative platform, we intend to enable the active participation of our people and facilitate knowledge exchange to contribute to the development of substantive expertise for the benefit of Serbia.
Next week, you are going to the United States. Who will you be talking to?
At this moment, we are receiving confirmations for meetings with numerous individuals dealing with our region in Washington. We will meet with representatives of the US administration at the State Department, as well as with congressional and senatorial teams interested in our region. We will also hold official meetings with the Serbian Embassy in Washington, church representatives, and our successful individuals across the US. Building a network of people who will create the vision for the future of Serbian-US relations through the Pupin Initiative is of great significance to us.
What are Serbian interests in the US, and what are US interests in Serbia?
For us in the Pupin Initiative, it is crucial to bring Serbian and US interests closer wherever possible and act as a mediator in that process. The impression is that both the Serbian and US sides want to work on further strengthening relations to build an alliance. The US can be Serbia's main partner in transforming our society into the post-industrial era. This collaboration is already evident in the field of technology and innovation, while the energy transition to renewable energy sources will diversify Serbia's energy landscape. Serbia has an advantage in the supply of strategically critical raw materials essential for the green transition and electromobility, such as copper and lithium. Serbia's strategic orientation towards electromobility and responsible use of its own resources could contribute to Serbia's image as a guarantor of a stable environment in a broader European context.
You didn't use the name of our celebrated scientist for your new organization by chance. To what extent is the example of Pupin and his influence in the US a reachable goal in the current circumstances?
Mihajlo Pupin is a real example of how it is possible to be a Serbian patriot and work on bringing Serbia and the US closer. Today, just like Pupin, we all need to work, educate ourselves, move forward, and be more successful, but we should never forget the society and the people we come from. Therefore, we should do something wherever we can to contribute to our community and our Serbia.
Who are the new Pupins in the US, and how can we count on them?
Serbia has its Pupins today, both in Serbia and in the US. They are our scientists, engineers, philanthropists, and everyone who represents Serbia in the best possible way through their work. Through the Pupin Initiative, we want to provide a platform for all successful individuals to strengthen Serbia's position and contribute to the exchange of knowledge and experience through joint action and effort. Our goal is also to return Pupin to the Serbian people. Therefore, we believe that Mihajlo Pupin's autobiography, "From Immigrant to Inventor", for which he received the Pulitzer Prize, should be included in the mandatory school curriculum.