Krasniqi: Kosovo is in the most difficult situation since 1999, the spirit of depression prevails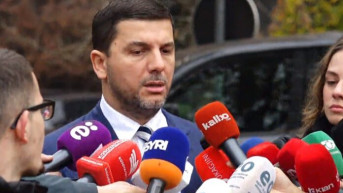 Source: Reporteri
The President of the Democratic Party of Kosovo, Memli Krasniqi, stated that Kosovo is in the most difficult situation since 1999, Reporteri reports.
Krasniqi states that Kosovo is dominated by depression, while citizens are waiting in front of embassies for visas to leave the country.
"You are witnessing that Kosovo is currently in the most difficult days since liberation. The economy is not developing, our citizenship is contested, our fight for freedom is being tried, and our government has no solution for any of the successive crises that it has produced and led to this state today, that the spirit of depression prevails," Krasniqi said.
As he said, families are in a social crisis, there is not enough work, and that is why they see a perspective in leaving Kosovo.
"The situation is serious", warned Krasniqi, speaking at the election convention of democratic youth.
The President of DPK added that the mission of the youth and his party "is to break that depression and sow hope for the future that the country needs".
Krasniqi called on the DPK youth to get involved, telling them that they are the only force that can change Kosovo.