The USA and the Kosovo question (8): Conversation without Tito's picture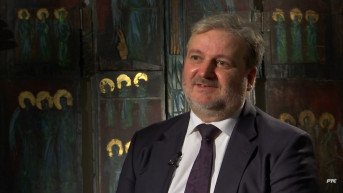 Source: Print Screen/RTS
Writing for Kosovo Online: Dragan Bisenic, journalist
Already in 1990, pro-Albanian senators and congressmen became even more active, while DioGuradi lost his seat in the US House of Representatives and never regained it. However, he continued to actively support Albanian demands. Thus, he joins Rugova in Ljubljana to meet with the Albanian community, because Slovenia has emerged as a new center that has supported the ideas of Kosovo's independence.
In February 1990, the Congressional Caucus for Human Rights, chaired by congressmen Lantos and Porter, came to Belgrade to hold a press conference on the "Serbian oppression of Kosovo Albanians", from where they went to Kosovo, to meet with leading intellectuals, journalists and activists, including Dr. Zekerija Cana, Zenun Celaj, Bajram Kelmendi, Ibrahim Rugova, Rexhep Qosja and Veton Surroi.
DioGuardi was soon banned from entering Yugoslavia, and he later tried to return to political life on many occasions, but every time it was unsuccessful. In the 2010 Senate elections, he was linked to a Ponzi scheme in which illegal money was funneled through him, but he denied knowing about it.
Bob Dole organized the visit of the congressional delegation to Kosovo, without official introduction and without the knowledge of the state leadership of Serbia and Yugoslavia, on August 29, 1990. The Kosovo Albanians see this event as a key moment in the US attitude towards Kosovo and winning over the US side to their cause.
Accompanying Senator Dole on the trip were Senators John W. Warner of Virginia, Jake Garn of Utah, Don Nickles of Oklahoma, Alfonse M. D'Amato of New York, Steve Symms of Idaho, and Connie Mack of Florida. The US senator evaded the authorities in Belgrade to communicate directly with Kosovo President Ibrahim Rugova. The delegation was in the then "Grand" hotel, and a large crowd of chanting people gathered in front. At that time, Senator Dole had in his staff, a person who was in charge of relations with Kosovo, and especially with Ibrahim Rugova, who was then emerging as the leader of the Kosovo Albanians.
At the meeting with them at the request of Patriarch Pavle, he was then a hieromonk, and later Bishop Atanasije Jevtic, who made a report to the SOC Synod from that meeting. The conversation with Senator Dole ended in mutual misunderstanding. The conversation also has the curiosity that at Atanasije's initiative, the Serbian delegation did not want to talk under Tito's picture. "As soon as we entered that hall, which was otherwise quite small, seeing the large picture of Josip Broz, I told the representative of the US Embassy that I personally did not want to talk here in front of Tito's picture, because I thought that it was framed by us Serbs so that we would be photographed with Tito as our "leader", and he was actually the main Serbian troublemaker in Kosovo, and he is the Shqiptar pleaser. My reaction was immediately accepted by all the other Serbs and refused to talk in that hall until Tito's picture was removed or another hall was found."
Senator Dole asked if it was true that 6,000 Albanians were fired from their jobs in Kosovo, among them a lot of doctors, and that 32 young Albanians were killed, and Atanasije did not say that the invitees had been surprised by the tone of the conversation and that "Mr. Bob Dole was expressing we already know the theses and positions of Ibrahim Rugova and other Shqiptar leaders and ideologues of the anti-Serb aggression in Kosovo." When Serbian representatives gave him other facts, Dole called them "propaganda".
In his address, Atanasije said, "Gentlemen, US Senators, we understand your interest in the rights of the Shqiptars, but it is obvious that you have neither the ear nor the will for the rights of the Serbs and the Serbian Church in Kosovo and Metohija. This is clearly visible from your behavior here and your interest. To this Bob Dole responded that this was not true and that he rejected the remark, and I replied that there was no way to show that it was not so. Then I said, "It is true that it is not humane to be killed either here or anywhere in the world, but you, gentlemen, were not at the same time interested in the number of wounded and injured Serbs in Kosovo, and not from the militia (there used to be that), but from the rabid mob of Shqiptar aggressors. If the Shqiptars demonstrators had conflicts with the state militia, what is the fault of the Serbs and the Serbian Church in Kosovo that the same enraged Shqiptars during their demonstrations, and returning from them, attacked innocent Serbs, Serbian houses, churches, and monasteries? This is how the Holy Trinity Monastery near Musutiste, the Patriarchate of Pec, the church in Vucitrn, Pristina, and so on were recently attacked. And why do Shqiptars rape our girls, old women and nuns? Why do they mistreat our children, if they are such "democrats"? Upon those words, Senator Dole said, "For the last 2 years, there has not been a single rape in Kosovo", as he alleged that a minister in Yugoslavia told him. I answered, "That is not true, because during that same time, there were more than 30 rapes of Serbian girls, nuns, and women. The most recent rapes of Serbian girls by Shqiptars were on June 14, 1990, in the village of Belo Polje near Istok, when Shqiptars raped a 10-year-old Serbian minor, and on July 15, 1990, they raped a 15-year-old Serbian girl in the village of Opterusa near Orahovac". To that Mr. Bob Dole did not answer anything," Atanasije Jevtic noted.
From the following, in 1991, the course of the US politics was changed. US President Bush published his famous Christmas warning in which he promised that the US would intervene militarily if Serbia intervened militarily in Kosovo. Soon the US turned to Iraq and its expulsion from Kuwait. Ibrahim Rugova formed the Democratic League of Kosovo and established himself as the leader of the Kosovar Albanians so that there was no longer any need for the mentoring of DioGuardi and others, although since then the Americans have become the leading force in Kosovo. Even then, demands are being made in the US Congress for the independence of Kosovo and proper explanations are given as to why this is in accordance with international law. Focusing on Kuwait is used to make Serbia's position morally even more difficult. For the first time, comparisons of Milosevic with Hitler, Stalin, and Saddam Hussein are heard, and press releases are issued in which Milosevic is called the "Saddam of Serbia".
(The end)