Becirovic: Political elites in Kosovo must face reality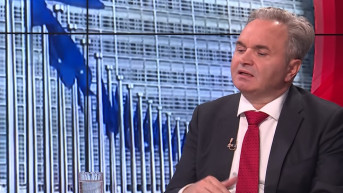 Source: Print Screen
Director of the International Institute IFIMES Zijad Becirovic said that the agreement between Serbia and Kosovo reached yesterday in Brussels would not relax relations, because it is "an integral part of political concepts", N1 reports.
When asked whether last night's agreement between Kosovo and Serbia on relaxing relations would affect real changes, Becirovic pointed out that there would be no improvement in relations.
"They will not relax because it is an integral part of political concepts. This concept of constant creation of tensions keeps the political elites in power, because they generally have no better solutions to offer such as the economy. Kosovo is an abandoned area, people are moving out en masse, living hard. It is a small area, it is a fifth of the size of Bosnia and Herzegovina by territory. It is a small space and then tensions must be constantly created. When it comes to the Open Balkans, I asked them why they didn't join, they said they wouldn't benefit because they didn't have any economy. I said that they should get involved, so they would get foreign investments, visa liberalization", Becirovic said.
He pointed out that the political elites in Kosovo must face reality.
"It is an escape from reality, and the reality is very painful when it comes to the citizens of Kosovo, they are no longer interested in those nationalist stories, they want to live better. "Through the production of tensions, it is possible for the elites to remain in power or eventually come to power," he said.
Becirovic mentioned that the USA is crucial for peace in the Western Balkans.
"The foreign factor certainly had an impact. For me, it was an expected agreement, especially if it is known that the Pristina side went too far in everything. The government of Kosovo cannot be formed without the Germans, only the USA is forcing itself here, so people think that they are behind everything. However, the USA is crucial for peace and stability in the Western Balkans", Becirovic says.
According to him, the resolution of the European Parliament is biased.
"European institutions contribute to Serbs moving away from the European Union and the West. When we look at yesterday's resolution, it is the Croatian-Djukanovic resolution. I think the resolution is absolutely critical, largely biased and asking any country to adapt its foreign policy to EU policy, while not knowing if and when there will be enlargement. Do you know what it means to adapt yourself to the European Union? And what if membership in the EU does not happen tomorrow? It is in a position like a castle in the air. Power flows from Europe from the West to the East. The new partner of the USA is not Europe, but Asia. Having cooperation with the East and Asia is the future", he stated.
Becirovic said that they are not causing tensions on purpose.