Lunic: More KFOR members - greater security for everyone in Kosovo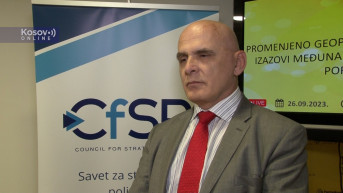 Source: Kosovo Online
Executive Director of the Council for Strategic Policy, Nikola Lunic, assessed for Kosovo Online that the increase in KFOR forces would be very significant because it would ensure greater security for all citizens in Kosovo.
"Larger KFOR forces mean greater capability in Kosovo, which translates to greater security. If there is greater security for everyone, it generates peace and stability, which is an explicit interest that Belgrade should be dedicated to and, I am convinced, it is dedicated to," Lunic says regarding the request of Serbian President Aleksandar Vucic to the Quint for KFOR to take over responsibility for all security matters in northern Kosovo following the incident in Banjska.
Speaking about the need for coordination between the Kosovo Police and KFOR during operations, which did not happen in the case of the Banjska incident, despite being emphasized as imperative by NATO Secretary-General Jens Stoltenberg, Lunic stated that this demand had been a form of pressure on Pristina.
"Besides sanctions, it was another form of pressure on Pristina and it remains in force. Whether KFOR will maintain such a stance or not, we will see in the coming period. In the end, we must know that both the land and air safety zones have not been abolished; they have only been suspended," he said.
He adds that there are "tools and mechanisms for pressure on both Pristina and Belgrade."
"The way Pristina and Belgrade behave in the political process will generate the international community's attitude towards them. At this moment, regardless of the Banjska incident and who ultimately initiated it, the focus is on Albin Kurti and the demands for the implementation of the Brussels Agreement," Lunic said.