Sutanovac: To increase security for the Serbs and peace in Kosovo, it is important for KFOR to increase its presence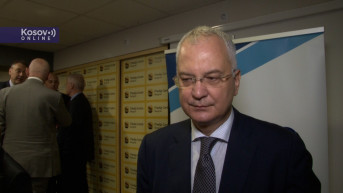 Source: Kosovo Online
Former Serbian Minister of Defense and founder of the Council for Strategic Policies, Dragan Sutanovac, emphasized that Serbia had been insisting for decades with NATO not to reduce KFOR forces, and he pointed out that it would be very significant for the security of the Serbs and the preservation of peace to increase the number of peacekeeping forces in Kosovo.
"For decades, we have been insisting with NATO and KFOR not to reduce their forces. Unfortunately, there are not enough soldiers in Kosovo who can respond adequately and in a timely manner to such situations as we have had now,' Sutanovac said for Kosovo Online, referring to the recent events in Banjska where one Albanian policeman and four Serbs were killed.
Regarding President Aleksandar Vucic's call to the Quint for KFOR to take over responsibility for security issues in the north, Sutanovac said it would be good to increase the number of members of this mission in Kosovo.
'If they take on a greater role, Serbs could feel much safer than they do now. Unfortunately, the departure of the Serbs from the police is evidently proving to be a bad move, but now, if KFOR appears in greater numbers, it can be a way out of the problem we are facing, which is very delicate and serious,' Sutanovac believes.
Regarding KFOR's inadequate response in the Banjska situation, Sutanovac explained that they had been surprised by the speed of the developments on the ground.
"I think they were surprised, not so much by the event itself, but by the fact that there was an exchange of gunfire on both sides so quickly, which could not have been expected. It could be seen that they assumed something was being prepared, but they did not expect there to be fatalities. They must change their approaches to planning to try to prevent rather than solve problems when they occur. They should be one step ahead because they have all the technology to cover Kosovo by telecommunications, receive such information on time, and prevent such conflicts," Sutanovac believes.
As he points out, there is not enough data on the conflicts in Banjska, but he assesses that it is probably a matter of self-organization of certain groups, which "caused damage to Serbia" at a time when its international position has improved.
He adds that there is a possibility that these groups are organized for, as he said, "some third interest," but the investigation should determine all of that.
"The investigation should show who is behind all of this," Sutanovac said.
He emphasizes that an enhanced role of peacekeeping forces, namely KFOR, is important for peace and security.