Milovic: With his speech at the UN, Vucic showed how he fights for freedom and justice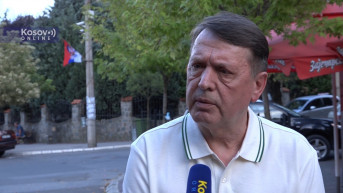 Source: Kosovo Online
The former Mayor of Zvecan and Deputy Director of the Clinical Hospital Center in Kosovska Mitrovica, Dragisa Milovic, tells Kosovo Online that the speech of President Aleksandar Vucic at the United Nations was followed with special attention by the Serbs in Kosovo, that the speech was historic and that the President showed how to fight for freedom, justice, and respect for basic human rights.
"Aleksandar Vucic's speech at the UN, we Serbs from Kosovo followed with special attention and I can say that it was an open and courageous speech and I can say historic because the President emphasized several things that are important for us, namely that the UN regardless of the different attitudes of the member countries, is still the only, as the President says, platform where you can gather and talk," Milovic said.
He adds that what the President emphasized is precisely the UN Charter because peace and security in the world rest on it.
"He intensified the violations of the basic UN Charter, which is also the peace, security, and inviolability of the territorial integrity of the member states. We who live in Kosovo were particularly interested in the situation that the President presented, which is the ethnic cleansing that has been carried out in Kosovo since the arrival of Albin Kurti. For two years, violence against the Serbs has continued, the President said that the number of attacks on Serbs had increased by 50 percent, that they were arrested, that they were threatened, that churches and schools were simply attacked, that hospitals were denied medicine, in a word, the situation that the President presented is intolerable for us Serbs," Milovic adds.
He points out that what should also be stressed is that Resolution 1244 of the UN Security Council is being violated, that our country was bombed in 1999 under the pretext of an alleged humanitarian disaster and that unfortunately no one in the West is talking about it now.
"What is most important in the whole situation, a small country called Serbia showed the world how it can and should fight for freedom, justice, and respect for the basic principles of the UN. We remain in Kosovo, together with our country, to fight for their basic human rights, and the President said that the way was through dialogue, a peaceful solution and compromise," Milovic concludes.