Vucic: Huge concern, even fear, about the situation in Kosovo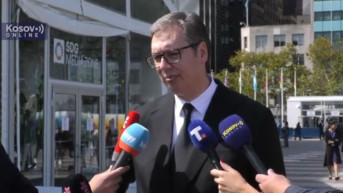 Source: Kosovo Online
Serbian President Aleksandar Vucic said today in New York that he was very concerned about the situation in Kosovo because everything that was happening clearly spoke of the true intentions of Albin Kurti.
"I also had unofficial meetings here with many representatives of the USA. I don't want to speak publicly about those meetings, but I conveyed to them a huge concern, also fear, about possible future events in Kosovo and Metohija," Vucic told reporters.
He stated that it was worrying that the dates that Pristina chose for some of its moves, the manner and language they used, and the arrests, clearly and unequivocally spoke of Albin Kurti's intentions.
About Stano's statement: Better late than never!
When asked about the statement of the spokesperson of the European Union, Peter Stano, that the EU is closely monitoring the situation in the north and that the formation of the CSM is necessary immediately, Vucic answered briefly and ironically:
"Better late than never!"
On the investigation against Menendez for bribery: It is clear that lobbying for Kosovo was not in vain
In response to the statement this morning in the US media, the news that a federal investigation was opened against Senator Robert Menendez for bribery, Vucic reminded that this man is the biggest Albanian, that is, Kosovo lobbyist in the US Congress.
"It was clear, from the passion and the language he used, that it was not for nothing. They caught the thief, they are conducting a federal investigation, that's how it goes... Thieves always look at themselves first. It's the same in Serbia," Vucic said.
"There, the countries lined up to listen to Milanovic and recognize Kosovo"
On the occasion of Croatian President Zoran Milanovic's call in the UN General Assembly to countries to recognize Kosovo, Vucic noted with irony:
"I see these 100 countries (that do not recognize Kosovo) lined up to listen to him... They are all pushing each other, they are standing around the corner waiting to sign Kosovo's independence..."