Pantovic: Elezovic, Kostic, and Milovic were remanded in custody against the law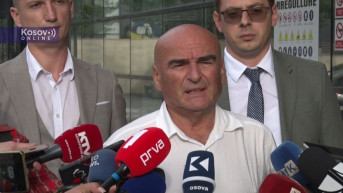 Source: Kosovo Online
Lawyer Ljubomir Pantovic said after the three Serbs who had been arrested yesterday had been remanded in custody for up to 30 days, that the court had accepted a confused, bad, empty, and unprofessional request for detention, which had been drawn up against the law and without facts and evidence.
Pantovic, who defends Ilija Elezovic, pointed out that it had not been possible to see from the explanation for ordering detention, who was accused of what, what had happened, and why Ilija Elezovic, Zoran Kostic, and Dragan Milovic had such charges.
"The judge for the preliminary proceedings made a decision that all three suspects, Milovic, Elezovic, and Kostic, should be detained for up to one month. Unfortunately, the court accepted one confused, one bad, empty, unprofessional request for detention that was drawn up against the law, without fact, without evidence, and I want to say that unfortunately the Special Department of the Basic Court in Pristina, which is responsible for prosecuting war crimes, does not have enough strength or desire to conduct these proceedings in accordance with the law," Pantovic said.
Pantovic believes that detention was ordered against the three of them against the law.
"The court did not even accept the request that Ilija Elezovic's stay in detention conditions will drastically endanger his health, I can claim that it will endanger his life. The doctor said that he was not for detention, but the court decided as it decided," the lawyer added.
Pantovic noted that he had not seen such a request for detention - confused, unclear, unprofessional, and bad - in his 28 years of practicing law.
Elezovic, Milovic, and Kostic were arrested yesterday in North Mitrovica, Zvecan, and Priluzje, and according to their lawyers, they are charged with an alleged war crime.