Rhode: Self-determination is now in power, it must respect the agreements and form the CSM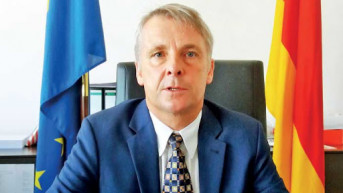 Source: Reporteri
German Ambassador to Kosovo Jorn Rohde said that they expect the implementation of all Brussels agreements, including the Community of Serb-majority Municipalities, Klan Kosova reports.
"You have seen the statements of Germany, the Quint countries and the EU that we expect all parties to implement the Brussels agreements, which include the Association. It is clear to us, it is part of the solution, but we have also emphasized several times that nothing is agreed until everything is deal," he said.
Rohde pointed out that Self-Determination could not behave like the Movement now that it was in power.
"You are now the government, you are not a party or a movement, it is "pacta sunt servanda". As a state, you must implement the things agreed by your Parliament. I did not say that the CSM should not be formed, but some things must be changed or added to comply with the constitution. It is not my job, but the Government of Kosovo's. Unfortunately, the previous five governments did not implement this," Rhode said.
He also said they were unhappy that the Kurti government had ignored their advice to delay the deadline for license plates.
"It is important that an agreement was reached last week. I fully admit that the problems have not been resolved. We know that in the summer the EU advised a long period of recession, our advice was not immediately accepted and we reached an unwanted point during the last week and we were not happy that our advice was not accepted," he said.
As he stated, there has been a de-escalation and the two sides, together with the EU mediator, can focus on other issues that must be discussed and which were mentioned in last week's agreement.
According to him, Kosovo and Serbia should continue negotiations on the issue of license plates, but also on other topics.
"The final agreement will have to be negotiated by the two parties," he said.
Rhode stated that Kosovo and Serbia have clearly agreed on the confidentiality of the Franco-German proposal.
"It is wrong to speculate, but I am sure that Germany is doing everything to reach a quick solution. As you know, Germany also has minorities, we have Danish and Slovak minorities, they also have an Association, they are in a way mono-ethnic, they receive funds from foreign governments and no one talks about it," he pointed out.
The German ambassador to Kosovo stated that, according to official Berlin, Kosovo is a place in the European Union.
He said the five countries that do not recognize Kosovo's independence are the challenge for Kosovo to obtain EU membership candidate status.
"Kosovo must decide when the moment is right, and the fact that you still have five countries that do not recognize you is a challenge for a successful application, but we are still with you. Germany believes that Kosovo belongs to the EU," Rhode said.