Vucic on Kurti's statement: I see that they are swooping down Borrell, as I guess everyone must be deaf and blind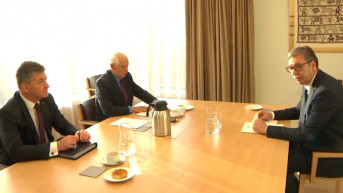 Source: Print Screen
The President of Serbia, Aleksandar Vucic, told the citizens of Serbia tonight that he would do everything to preserve peace and stability, and told the Serbs in Kosovo and Metohija that the Serbian state would stand by its people not leaving them in the lurch, RTV reports.
"We will preserve peace and stability, but the Serbian people in Kosovo and Metohija must know that they have their Serbian state behind them in accordance with the international public legal order of the UN, Resolution 12 44 and everything that our Western partners refer to when they talk about the situation in Ukraine and some other territories in the world," Vucic said during his address after today's meetings in Brussels.
The President says that the representatives of the Serbs in Kosovo are justifiably dissatisfied and fed up with everything, just as they are fed up with all the lies that have been spread in the media in Serbia, but also in many other places in Europe and the world, and that is why they returned to the Pristina Parliament. 
"Thus, we avoided amending the constitution, changing the official language and not having the Serbian language anymore, we avoided the legalization of the Kosovo army that could go to the north... Unfortunately, there were Serbs who were ready to participate in that plan and to deliver everything that is directly against the members of our people to those who wanted to quickly put it into action," Vucic said.
The President tells all the citizens of Serbia that Serbia will be dedicated to peace, that it will carefully make decisions about every move.
He tells the Serbian people in Kosovo that they never have to worry about one thing, and that is that the state of Serbia will do its best to keep them safe.
"I must repeat honestly and absolutely seriously, to those thinking that they can carry out the expulsion of our people, the killing of our people, the wounding and everything else, that we will be with our Serbian people and that we will not leave them in the lurch. Unlike others, I know what it means," said Vucic.
He added that he didn't feel like a winner, but just exhausted, and we're about to be more exhausted, which is not for whining and lamenting.
"I will be happy if everything goes peacefully and if we find an intermediate solution in the days ahead," Vucic said, commenting on the assessments of some Albanian analysts from Kosovo and Metohija, who claim that Pristina brought itself into this situation, and that Vucic emerged as the winner.
As he said, if some intermediate solution is found, then he will feel, not as a winner, but as someone who participated in avoiding a disaster.
In response to the Albin Kurti's statement, after the meeting, accusing Josep Borrell of abandoning March 2023 (the date for achieving the normalization of relations), Vucic said that Borrell did say at the meeting that it did not make sense and that it could be a big mistake, but he did not want to give details of the meeting and what Kurti responded to it.
"But I see that they are swooping down Borrell since I guess everyone must be deaf and blind, and not see what is happening. Borrell was fair and I am grateful to him for that," Vucic said.
Commenting on the headlines in Croatian and BiH media that "Serbia has been humiliated today", Vucic stated that such comments should be ignored.
"Whenever I show concern, and I am not hitting the ceiling, they think we've disappeared. They really think they have more gas, better electricity, but have look at public debt rates. It doesn't even matter, I don't worry about them", the President of Serbia remarked.
He pointed out that for decades, if not longer than a century, different regional coalitions could always function without an agreement, because for them good and successful Serbia is the one that is failing, economically regressing.
"That Serbia that is getting stronger and successful will always bother them and that's why they always make senseless comments. That should be ignored," Vucic concluded.