Vucic: The situation is difficult, on the verge of conflict, tonight I will talk with Serbs from Kosovo and Metohija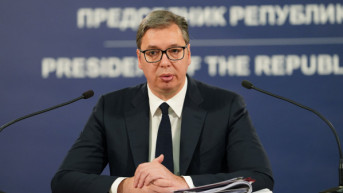 Source: Srpska napredna stranka
The President of Serbia, Aleksandar Vucic, addressed the nation this evening after returning from Brussels, noting that he was proud of the fact that the Serbian delegation came to Brussels to "make an agreement and ready to compromise, to preserve peace, people's lives and the stability of the entire region".
Vucic stated that they considered it extremely important that we accepted compromise solutions.
"We did our best, on several occasions we accepted new demands. At one point, after an hour and a half, I told Borrell and Lajcak that there was nothing to do anymore. I understood that the Albanian side would not want any compromise solution and postponement of the mistreatment of the Serbs. Today I confirmed on several occasions that Serbia did not have a problem with the KS license plates, I was ready to accept the KS license plates on the entire territory of Kosovo, but the other side reacted very negatively," said Vucic.
"I said that we could open all topics, but we had to implement what had already been signed, which was in force. When you say that, you suddenly see the whole essence of the problem. They are trying to tell us that maybe one day we will get the CSM (Community of Serb-majority Municiplaities), but only when we accept their so-called independence. They don't understand that the CSM is a product of the Brussels Agreement and that was signed by two parties, with the signature of the EU... How can we trust them for anything in the future, if they are not able to respect what was signed in the past?" Vucic explained.
The President says that it is better to talk for 100 years than to fight for one day.
"It is obvious that someone else has been planning the conflicts for months. It is no coincidence that tonight everything that exists from the police in Pristina has been sent to four destinations. They have placed their special units everywhere. The problem for us is that the Serbs know well enough that it is not their obligation to pay tax that is not prescribed by any act. There is enormous anger among the Serb population in the north of Kosovo and Metohija and tonight I will again have meetings with Mojsilovic and Vucevic, and then from 11 p.m. tonight I will have a meeting with the Serbs from Kosovo and Metohija. My request to them is to try to preserve the peace," Vucic said.
He said that we needed to be concerned, but there was no reason to panic.
"When you are dealing with irresponsible people who play with the lives of other people's children with such ease... Today I saw how many times Josep Borrell warned the representatives of Pristina that they had intelligence about the situation on the ground. We have received intelligence a little while ago that the situation is on the edge of the conflict. The Serbs must understand our plea and our request. That's why I will stay up until late at night. Once again I am asking the international community and the Western countries that have always had influence on Pristina to try to use it and to try to make Kurti obey legally binding acts and preserve the peace," Vucic noted.
The President of Serbia says that he is grateful to the EU representatives for the patience they have shown.
"I have nothing against them. Even when the Albanians wanted to include everything in the agreement on the stabilization of relations, I said that there was no problem, but that it was necessary to implement what had already been signed. When you get to that topics, they say it was signed by the former government. One can just be pulling his hair out not knowing what to do. It doesn't make sense. With all my concerns, we will do everything we can and we will always be ready for compromise solutions and continued talks. We have to avoid conflicts by all means, to preserve the peace, Serbia will respect Borrell's request and will not renew or issue the license plates, but Pristina will not, and a difficult situation awaits us, the fines will be issued from tomorrow," the President said.
He explained that Serbs in Kosovo were fed up with everything.
"Serbia will be very dedicated to peace. We will carefully make decisions about our every move. I want to say to the people of Kosovo and Metohija that we will do our best to keep them safe, but if someone thinks they can carry out the expulsion of our people, killing and wounding of our people, I want to repeat that we will stand by our Serbian people and will not leave them in the lurch. We will preserve peace and stability, but the Serbian people must know that they have their Serbian state behind them in accordance with the UN Charter, Resolution 1244 and all what Western partners refer to when they talk about Ukraine," Vucic said.