Vucic: Serbs in Kosovo are fed up with terror, we are not interested in mutual recognition with Pristina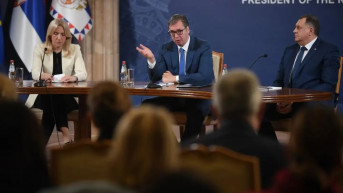 Source: instagram
The President of Serbia, Aleksandar Vucic, said today that yesterday the European Parliament had passed a recommendation, not a resolution, according to which Serbia was requested to recognize the independence of Kosovo.

Vucic said that the substance of the text of the European Parliament's recommendation was much more important.
"The European Parliament recommends that we must recognize an independent Kosovo. So I ask all the media, why did you hide that? It is much more difficult if they ask us for mutual recognition than whether we will introduce sanctions against Russia. And why are we hiding that from the people? Well, a part of the media and political public hides it, because then people would understand what these people want for Serbia. I thank them for the great concern but we are not interested in mutual recognition with Pristina," Vucic said.
Regarding the agreement on license plates in Brussels, Vucic states that "just 10 days ago when we were on the verge of conflict, everyone was saying why you are talking about license plates, about nonsense, don't lead us into war".
"When you make a decision regarding peacekeeping, you are criticized again as if you had betrayed something. Two days ago, Pristina had a better agreement than it got yesterday. It is important for us that the final text states the fulfillment of previous agreements. There is no going any further, that's why I insisted that all previously reached agreements should be respected. Our people will not be mistreated; KM license plates remain and survive. As for new cars, there are 90 KM license plates per year, and as for renewal, there are no obstacles. But negotiations are ongoing, KM license plates are valid, and the number of people who have them is 7,000 in Kosovo and Metohija, and 2,000 in central Serbia and they can use them without problems. It is a tactical victory that leads us into a more difficult situation. I thank the people who came out yesterday in such large numbers to protest and go to schools, they study according to the plan and program of the Serbian state, and I thank them for not threatening the Serbian state. As for the situation itself, the situation with the Serbs in Kosovo and Metohija is boiling over. It is literally boiling. People are fed up with the terror of the Pristina authorities. You could have seen extraordinary energy among the Serbs in the north of Kosovo, but look at the gathering in a small place called Gornje Kusce. People are fed up with being bullied," Vucic says, adding that by midnight last night he had spoken at least 50 times with Brussels about every comma and every letter.
Almost 5,000 people, Vucic reminded, were at a protest in the small village of Kusce the previous day.
"They are fed up with terror, they do not want to be a national minority, that shows how hard it is for them and how much they have been tortured during the previous 23 years, every day you worry whether your child will get to school, whether someone will stop you at a crossing, you must not say that there was a falsified action in Racka because you will end up in prison," Vucic said.
Regarding the return of the Serbs to the institutions, President Vucic states that "they were in a hurry to replace the Serbian representatives as soon as possible."
"You heard what the Serbs said, one condition was met, no confiscation of cars and no fines, the second condition is the CSM. The European representatives were very rational, and the Americans were too. All this is torture. They were in a hurry to replace the Serbian representatives as soon as possible. You heard what the Serbs have said; the formation of the CSM, when it is formed then we will move on to something else. Whether I want to, and I do not, I cannot convince the Serbs. No matter how difficult it was for them, they were not afraid of the force that threatened them, because they knew that the hearth and sanctity are greater than the threat." Vucic said.
When asked by a journalist who had the key to solving this problem, whether it was Brussels or the USA, President Vucic answered the following.
"There are serious people here besides me who lead the state and the entity. You see how interesting it is that a woman who wants to be Kurti's choice is talking about something, said the president regarding Rada Trajkovic's statements. When it comes to license plates, the agreement was agreed in 2011. And as you can see, we are succeeding in that fight, and you, by all means, you, who are always against the Serbian people, and who criminalize the Serbs in the north, you give us patriotic speeches. And even if all that were true, imagine that we did manage to buy another year. After 11 years of hard struggle, we succeeded. Despite the fact that people we talked to are fair, it's so difficult that after 11 years of stupidity you left us you keep criticizing us. And if by any chance we had riots, they would have said, here's Vucic at the beginning of a new crisis, they all made it difficult for us and were only looking to put an additional burden on our backs. I told my people in Kosovo and Metohija that only we are with them and that they will have the support of Serbia. They did not manage to squeeze in the sentence that we did last night. The Community of Serb-majority Municipalities comes first, and only then something else. They will essentially be on the side of Pristina and we are there alone and there is no one who can help us. And that is why it is important for us to develop and strengthen our country, to be united, and to protect our country, Serbia. In any case, it's good that we ended it this way, and if you ask me whether I am happy - I'm not. In any case, we will stick together and Serbia will win," the president said at the end of his address.
Today, President Vucic met with the Serbian member of the Bosnia and Herzegovina Presidency Zeljko Cvijanovic, and the President of Republika Srpska Milorad Dodik, stating that he informed them about the talks in Brussels and the situation in Kosovo and Metohija, but also that they discussed other topics, as well as joint infrastructure projects.
"This week, a joint team will be formed, we will invest a lot of money in the construction of the memorial complex in Donja Gradina," Vucic said.