Vucic in Tirana: I came to say what I thought about the dialogue with Pristina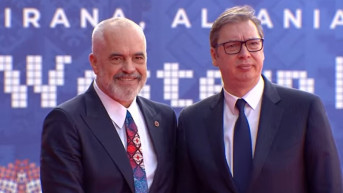 Source: Albanijan post/printskrin
Serbian President Aleksandar Vucic said that he came to the EU-Western Balkans Summit in Tirana to defend the Serbian position and openly say what he thought about the negotiations with Pristina, RTV reports.
"I came because if you're not at the table, then you're on the menu. And then everyone can't wait for that, so this is a better way to protect Serbia's interests," Vucic explained to journalists before the start of the Summit in Tirana why he came to the Summit.
Vucic said that after consultations at the state level, he decided to come to the Summit in Tirana anyway, because that way Serbia will have a chance to say what it thinks about the negotiations with Pristina and the negotiations on the EU accession, Tanjug reports.
"There were several reasons why we hesitated to come. Some were related to Kosovo and Metohija, and some were related to the dialogue with the EU. After consultations with the state authorities, it was decided to come anyway. We think that in this way we will have a chance to say what we think about dialogue and negotiations with the EU," Vucic said.
He also said that Serbia remained committed to the dialogue process, as well as the negotiation process.
"I am realistic, I am here to learn a lot from people from the European Union, to listen to them, but also to explain Serbia's position," Vucic said.
When asked by foreign journalists about the relations between Serbia and Russia, he said that Serbia was an independent country, but that it also knew its obligations towards the European Union.
"It is easy to make false and fabricated accusations against Serbia. I believe that you all read, 9-10 months ago, that Serbia will attack countries in the region at the behest of Russia to cause additional insecurities and instability in the region. And we disputed all that, not only with our words but also with our actions. In the end the truth will come out, which is that Serbia is an independent country, on the European path, and will remain there," he concluded.
Vucic added that Serbia remained committed to the European path and negotiations with the EU, but that at the same time it had to protect its own interests.