Vucic: I'm going to Tirana; it would harm our country if I didn't go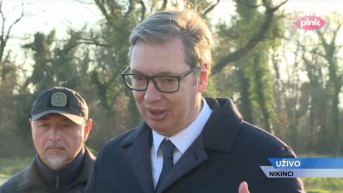 Source: Print Screen, Novosti
The President of Serbia, Aleksandar Vucic, said today that he would go to the EU-Western Balkans Summit, which was being held in Tirana the next day, and that he made the decision himself so that there would be no harm to Serbia, Novosti reports.
"I talked with Ana, with my friends; I don't have a problem with it, and it's not a matter of my vanity. I've been trying for ten and a half years to always take care of everything. Sometimes you're just overwhelmed by emotions when you no longer know what to do because someone has been creating crises for months," Vucic said at the training ground in Nikinci, where the military exercise of the Serbian Armed Forces members began.
He stated that when it came to Kosovo, it was difficult for him to understand the language of "both sides" when the Serbian side had not done anything.
"I'm not sure, but there will certainly be some benefit from going to Tirana. If I weren't going, there would certainly be great harm to our country," Vucic said and added that there would be a lot of good things for the citizens in Tirana – not to have additional roaming payment services when they went to Germany, France, but also that there was an "obligation of gratitude" due to the 165 million that would be received for energy.
He said that tomorrow he would fight for the interests of the Serbs. He also stated that he knew what awaited him there.
"Even though the topic is the Western Balkan, and 20 of them will talk about sanctions against the Russian Federation and the problem of Kosovo in an inadequate way, maybe my colleagues are right when they say that they will hear at least one answer," Vucic said.
He also added that the big powers would not change their minds that Serbia was small, but it was not worth whining about because life was a struggle, Kurir reported.
Vucic also expressed concern about what would happen next week in Kosovo because, as he said, it seemed as if someone was causing something on command.
Vucic pointed out that he would have special bilateral meetings with the Dutch and Belgian prime ministers in Tirana, B92 reports
"When you talk to the Dutch and Belgians, it is undoubtedly of great importance for our country," Vucic said.
He stated that he would also talk to Macron, with whom he had exchanged messages on this topic, and to everyone else.
"We know what this will turn into. The main topic will be the sanctions, if there were no sanctions it would be Kosovo. Then when you add Vjosa Osmani, Milo Djukanovic, or others from the region, you can think that it will be a pleasant situation for Serbia. Life is a struggle and there is no reason to cry and wail," Vucic said.
Speaking about trade with Kosovo, Vucic said that for Serbia it was part of internal trade, for them it was import and export.
"As you can see, it is completely normal that people in Pristina, Peja, and Prizren have the greatest needs for products from central Serbia. We also have needs for their products, we want to buy raw materials from the territory of Kosovo and Metohija, and we have no problem with that. I think it's the best because it brings people together and binds people, preventing the existence of all barriers between people. I don't understand why it bothers Kurti, I'm afraid he will never be interested in it. This is happening without his will, with the will of both businessmen, by the will of ordinary people bound by interests. It doesn't have to be any love but interest. I worry about what will happen next week because ten days can not pass without them making some deliberate provocation, or causing chaos. It's as if someone commands "come on again", and here we go again,"  Vucic said.