Abazovic: Support for Kosovo's request to join the Council of Europe is not directed against Serbia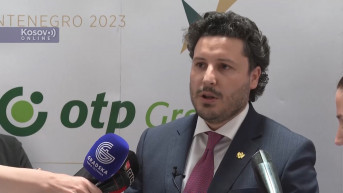 Source: Kosovo Online
Montenegro's vote in the Council of Europe regarding Kosovo's request for admission to that organization was not directed against Serbia, Montenegrin Prime Minister, Dritan Abazovic, said today at the session of the Parliamentary Committee for International Relations and Emigrants, Vijesti reports.
On the Committee's agenda is the control hearing of the Prime Minister and the coordinator of the Ministry of Foreign Affairs, Dritan Abazovic, on the topic of the Government's decision to support Kosovo's request to be a member of the Council of Europe in the procedure of this organization.
Abazovic stated that nothing had changed in the foreign policy of Montenegro and that the state had pursued a "responsible and consistent policy".
"I wouldn't be surprised if we voted against it, so a hearing was called. Then it would be something that is justified. I heard that it was about non-transparency - the vote was taken at the Committee, and there were no members of the Government but the ambassador. She sent a note that we should make a statement. Do the members of the Government have different opinions? Most of them, or rather all of them, accepted at the beginning that Montenegro has a consistent foreign policy. Montenegro voted together with 33 other countries. Article four of the Ohrid Agreement states that one country will not stop another if one wants to join a certain international organization. Montenegro's interest here is the greatest. It is reflected in regional cooperation and stability. We cannot make a greater contribution to solving these issues, but we can be friendly and invite the states to find a common language," he said.
Abazovic said that the vote had been postponed several times and that the final decision had not been directed against Serbia.
"I was very collegial, said that we would vote for and that there was nothing against Serbia. We are a country that recognized Kosovo, and we behaved like all countries that recognized it, but we understand countries that did not recognize Kosovo. In this way, we have a consistent policy. This is not a decision that is made at Government meetings. Was anyone interested in how the initiative for the state of women's rights in Afghanistan was voted? We are rooting for a sustainable solution to be found between Serbia and Kosovo in the dialogue, and I think it was in that context," he stressed, adding that Montenegro had good relations with Serbia.
Abazovic said that he was not unfamiliar with the views of official Serbia and that he understood its position.
"I think that everyone in Montenegro should understand that everyone has a political calculation," he pointed out, stating that he had told the ambassador to the Council of Europe how to vote.
The President of the Committee for International Relations and Expatriates of the Parliament of Montenegro, Miodrag Lekic, assessed that the Government did not have to inform the Committee about its decisions, but that it should be a practice.
"We found out about the decision from the media, it unfolded in phases. We felt that it was necessary for the Prime Minister and the Minister of Foreign Affairs to explain the decision-making process and the rationale for this decision. One component of the Government announced that it knew nothing about it. We will be interested in what the state's interest is in this case. We had a domino effect, that one municipality made a decision on the recognition of Kosovo. This country has seriously shaken its foundations, and the progenitor of that is the outgoing president Milo Djukanovic. There is a political geography in Montenegro, and I hope that it will not become geopolitical," he pointed out.
Lekic replied that Abazovic's decision was wrong if it was an individual move.
"It is a too serious and delicate topic. It is least appropriate to compare it with the women's issue in Afghanistan. I agree with you that it should be at the table, but the worst thing is to be at the table. We are not interrogators here. We will interfere in this, there will be further proceedings. I will ask you not to call the ambassadors, and we will try to correct what you have done in the further process," Lekic said.
He pointed out that some EU countries had been restrained.
"We think that the measure is to be restrained at the moment when the issue of relations between Serbia and Kosovo is final. It seems to us, and maybe we are mistaken, that the measure was to refrain. But we know how we will proceed. This will continue. PACE will discuss this," Lekic said.
He added that two lawyers had been hired to check whether this made sense.
"There is no political background, nor is this a political story, but an attempt by this Committee to correct a neglected sphere to the extent possible," he underlined.
Lekic said that he did not think that the announcement of some local assemblies to make a decision on the recognition of Kosovo was an "adequate method".
"But that is a consequence of your (Abazovic's) move. Montenegro must not be an inferior pawn, to which they give instructions," he stated.
Democratic Front (DF) MP Milun Zogovic assessed that Montenegro's decision to recognize Kosovo was the "most shameful" in its history.
"It was a decision of tyranny, not democracy because former Prime Minister, Dusko Markovic, said that 85 percent of citizens were against it. This is the continuation of a shameful policy. If you were conditioned by the decision, you should have said so and then maybe someone would understand," Zogovic said.
He added that the procedure and the manner, in which it had been adopted, were debatable.
"Did certain parts of the government know about this or do they just want to distance themselves from it? That's why it's important to clarify the situation," he said.
The Ambassador of Montenegro to the (CoE) Bozidarka Krunic supported last week that Kosovo's request to join the CoE should be included in the procedure of this organization, at the meeting of the Committee of Ministers of the CoE. Krunic, as "Vijesti" reported, voted according to the instructions of the Government.