Albania: Support for national minorities through the project "The Future is in the Origin"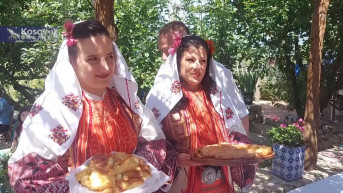 Source: Kosovo Online
At the promotion of the project financed by the Fund for National Minorities, under the slogan "The Future is in the Origin" in the ethnic house of Fustanella near Tirana, members of minority nations living in Albania gathered at one table.
With a rich cultural and artistic program, representatives of the fairer sex presented the cuisines and a taste of their homeland, and the Serbian table was promoted by women from Shkoder, Milojka, and Eni Brajovic.
A few years after the adoption of the Law on the Protection of National Minorities, Albania activated the Budget Fund, which defined the criteria for the distribution of funds earmarked for the work of national minorities.
"The preservation of the culture, tradition, language, and script of the people living in the territory of Albania is extremely important for our country," Kostadina Bezhani, President of the Committee for National Minorities of Albania, told Kosovo Online.
According to her, the Government of Albania has allocated four million Albanian leks, or close to 40,000 euros, from the budget for this year to support national minorities.
"The State Committee for National Minorities aims to help preserve the customs and traditions of the peoples living in these areas. In order to start presenting and supporting their work, we announced a competition for projects that ended in April. Now they are being implemented, and one of them is the one that is said to be common to all because cuisine is an important part of national culture. Gathering and representing minorities in the way that our grandmothers did, passing on traditional recipes that have survived to this day to their grandchildren, can best represent one nation, but also show what we all have in common," Bezhani said.
The project "The Future is in the Origin" as one of the ten selected in this year's competition, was designed by a member of the most numerous, Greek national minority, and representatives of the other eight recognized minorities in Albania, the Welsh, Romanian, Egyptian, Bulgarian, Roma people, Northern Macedonian, Montenegrin and Serbian national minorities.
"Organizing such activities contributes to our city because Tirana is a metropolis that develops day by day. Members of about 144 different nationalities from all over the world work, live, and study in Tirana. Let's say it's a big house where everyone finds space to live their own life," Tirana Deputy Mayor Andi Seferi told Kosovo Online.
The Law on the Protection of National Minorities in Albania was adopted in 2017 and in accordance with it, nine national minorities were recognized.
The exact number of members of minority nations and ethnic groups living in that country is not reliably known, but it can be determined in the upcoming population and housing census announced by the Government of Albania for September 18.