At the celebration in Tuzi, the flag of Greater Albania and the KLA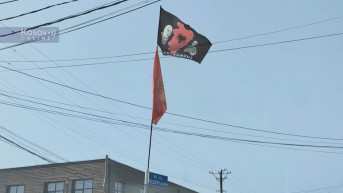 Source: Kosovo Online
Members and sympathizers of the Albanian Forum celebrated the victory in the local elections in Tuzi with the flags of "Greater Albania", Albania, the US, and Montenegro, Vijesti reports.
At the celebration in a restaurant in Tuzi, on the recordings published on social networks, as well as on some Albanian television channels, it can be seen that the KLA flag was also being flown.
In yesterday's local elections, the Albanian Forum coalition won 18 out of a total of 32 council seats.
According to the preliminary results, the coalition led by the current president of the Municipality of Tuzi, and the leader of the Albanian Forum, Nik Gjeloshaj, received 4,282 votes, i.e. 51.83 percent, five percent more than in 2019, when they won 3,682 votes.
The coalition consisting of the Democratic Party of Socialists (DPS), the Bosniak Party (BS), the Social Democrats (SD), and the Democratic Union of Albanians  - "The Right Path" won 12 mandates.
Democratic Montenegro won one mandate, as did the Social Democratic Party of Montenegro.