Gracanica: Marked 19 years since the murder of Dimitrije Popovic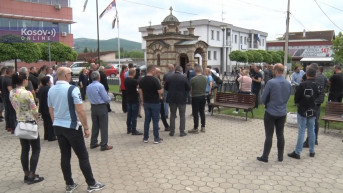 Source: Kosovo Online
Today marks 19 years since the murder of Dimitrije Popovic, with a memorial service at the grave and the laying of flowers and lighting of candles in front of the memorial chapel built in the center of Gračanica.
In addition to family members, the commemoration of the anniversary of Popovic's murder was attended by relatives, friends, and comrades who wore shirts with his image, on which the words "We remember you Dimitrije" were written.
Writer and journalist, Zivojin Rakocevic, points out that Popovic is the purest victim, who died in formal peace, and showed everyone how much that peace is for others, how much that freedom is for others, and how much freedom did not come to the Serbs.
"Dimitrije Popovic became one of the symbols of Gracanica and became embedded, not only in what we think is history but embedded in our personalities and our characters. Among you, I see those who saw that wound and those who saw that blood. And they became permanent witnesses, sacred to that sacrifice, and sacred to that blood, but each of us who remembers that wound also remembers the smile of the boy that said, which can be seen in the Popovic family today, which can be seen on the streets of Gracanica, and that smile says, that we are alive thanks to Dimitrije's sacrifice and we are alive thanks to his smile," Rakocevic said.
Srdjan Popovic pointed out that the murder of his brother was a "scar for life".
"We must not forget the sacrifice of Dimitrije Popovic, and the time that is behind us, which we tragically experienced. We have to fight, in order to survive in these areas. This must not be repeated. We all must learn from the mistakes of the past, and especially our neighbors. Without coexistence here, we cannot have a future," Popovic said.
The mother of the murdered Dimitrije, Jorgovanka Popovic, said with tears in her eyes, that she had lost her child, who had been neither guilty nor responsible.
"All the words that were said today are true, they have weight. My Dimitrije is looking at us now," Jorgovanka Popovic said briefly.
Also, today's commemoration of the anniversary of the murder of Dimitrije Popovic was attended by the assistant director of the Office for Kosovo and Metohija for infrastructure projects, Jelena Stojkovic, who said that Dimitrije had died only because he was a Serb.
"Mother said 'my Dimitrije', and we call him our Dimitrije. Our Dimitrije is a victim, he died 19 years ago, a minor, for no reason, he died because he is a Serb. The wounds cannot be healed no matter how much time passes. Families can't heal, and neither can the rest of us," Stojkovic said.
Stojkovic adds that even today we are witnessing the ideology of hatred towards the Serbs.
"We endure various attacks and today we shed blood. We have a wounded Dragisa Galjak, who barely survived, we have the arrested Rados Petrovic and Dusan Obrenovic, we have flag burning, monuments desecrated, and our municipalities are raided. We are there even when it is difficult. We are witnessing difficult times. The offices for Kosovo and Metohija and the state of Serbia will provide support to our people, to implement peace and stability for our people and our Kosovo and Metohija," Stojkovic said.
Dimitrije Popovic was killed in front of a fast food kiosk from a moving vehicle. Albanians Albert Krasniqi and Labinot Gashi from Pristina are accused of the murder. Krasniqi, then a minor, was sentenced to nine and a half years in prison, and Gashi was acquitted.