Stano: Belgrade and Pristina to take concrete steps to de-escalate the situation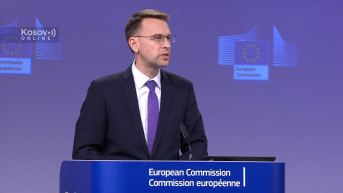 Source: Kosovo Online
The spokesperson of the European Union, Peter Stano, said, commenting on the situation in Kosovo, that it was most important that Belgrade and Pristina took concrete steps to de-escalate the situation on the ground, RTS reports.
Stano called on the parties to work on a sustainable solution and added that the platform for that was a dialogue with the mediation of the European Union.
"We are always ready to host and invite the President of Serbia, Aleksandar Vucic, and the Prime Minister of Kosovo, Albin Kurti, to a meeting, when the conditions are met and when the two agree," Stano said at the press conference.
He stated that the Special EU Representative Miroslav Lajcak and the American envoy for the Western Balkans, Gabriel Escobar, would visit Pristina today and that they would be in Belgrade tomorrow.
He pointed out that the two would repeat the European and American calls to de-escalate the situation and to take steps towards achieving a sustainable solution.
As he said, after the visit, Lajcak would inform High EU Representative, Josep Borrell about the situation on the ground, who would report it to the member states, after which they would decide on the next steps.
Stano reminded that Borrell, on behalf of all 27 EU members, had called on the two sides to take measures to de-escalate the situation.